At the end of June I got to photograph a very special backyard wedding in Saratoga.  What made this wedding very special to me was that I have known the bride for a very long time.  The bride, Shawn, was my kids' favorite babysitter when they were small–in addition to being one of my photography assistants.  Shawn has the soul of an artist and is also wicked funny.  I knew that her wedding would be fun, unique, and detail oriented.  And she did not let me down.  And although I was very surprised that she chose a traditional Oleg Cassini bridal gown, in true Shawn fashion she made it her own by wearing it with a navy blue tuxedo jacket.  Below is Shawn and Andrew's story:
1.  How did you first meet?  Who, what, where, when and why.  Give us the dirty details.
We met online when we were teenagers! I stumbled upon his blog and found it interesting, so I emailed him a few questions. He responded very kindly, and we ended up staying in touch for the next decade plus. He lived in West Virginia and I was in New York. When I was 18 I went on a road trip with my then-boyfriend and Andrew was nice enough to let us crash on his futon, but teenage me had no idea that we'd end up married ten years later.
2.  How did you feel as you were getting dressed on your wedding day?
Shawn: Stressed! The thing about having a wedding at your [parents'] house is that there's no escape from the madness. I just wanted it to get going so I could get married and eat fried chicken.
Andrew: That's when I really felt like the wedding was happening. It made the whole thing seem real.
3.  When did you know he/she was the one?  Was there something he/she did or said, etc.?
Hard to pin down the specific moment. After visiting him in 2011 I think it was clear to me that I had to move to Kentucky (from New York) in order to be with Andrew. It was such a hectic time that I didn't really think twice about whether or not he was "the one." I've lived here for two years now and never regretted a moment.
4.  Tell us about the proposal–did you know it was coming?  How long was it in the planning?  How did you feel?  Nervous, excited, etc.?
We had talked about it, and I remember trying so hard not to get my hopes up as my 27th birthday approached. I was super anxious about it, so the night before my birthday I asked if I could have my present early with the hope of putting an end to my suffering. He said "after this episode of Parks & Rec," which was cruel, but it was a good episode. Then he brought out his laptop which had a little animation he had programmed as part of his proposal. I cried a LOT.
5.  Tell us one thing you love most about the other person.
Shawn: Andrew is nice to me every single day. There's no exception to that. He's always so happy to see me, even if I'm just walking by him as I go from one room to another in our house.
Andrew: I love the way Shawn makes me laugh. When we laugh together, it really feels like we're both halves of the same whole.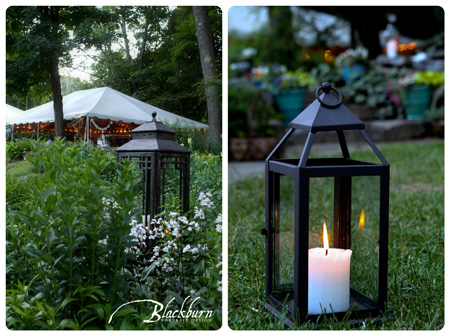 6.  How did you choose your venue?  What was your vision for your Wedding Day?  What did you do to personalize your event?  Do you have any favorite wedding trends that you incorporated?
I always wanted to have my wedding at my parents' house. They had mentioned wanting to sell it and move, so I thought this would be a good opportunity to convince them it wasn't the right time. Now that it's over I need a new strategy.
My mom and I (mostly my mom) did a lot of collecting of vintage china and tablecloths for the wedding so that it wouldn't look like we'd just rented a bunch of stuff. Since it was an outdoor wedding I wanted to decorate everything in a way that really showed off my parents' garden. We also spread out quilts on the front lawn for the cocktail hour and it was so nice to see people making themselves comfortable on them after the ceremony. Also, my mom made our cake! If it's not obvious, none of this would have been possible without her.
7.  What did you think/feel the first time you saw each other on the Wedding Day?
Shawn: Is this really happening? His suit looks so nice! My nose is running.
Andrew: It felt like the beginning of the rest of our lives together.
8.  What is your favorite memory of that day?
Seeing all of our friends and family members from so many parts of the country (and parts of our lives) in the same place.
9.  What is one thing you wish you had known about planning a wedding before you began?  Is there anything you would have done differently?
I would have eloped! The results of the planning were better than I could have ever imagined, but there's nothing in the world that could make me want to go through that again, especially from 800 miles away.
10.  What is next for you as a couple?
We'd like to buy a house, but in the meantime we're really enjoying just relaxing and not having such a big event looming over our heads.
Vendor List:
 Saratoga Wedding Photographer | Susan Blackburn, Blackburn Portrait Design
Florist | Lindsey Fell
Ceremony Location | The O'Donnell home, Saratoga Springs, NY
Reception Location | Same as ceremony
Wedding Planner | Ourselves!
Dress Designer | Oleg Cassini
Caterer:  Hattie's Chicken Shack
Desserts:  Mama Mia's and The Bread Basket
Did you enjoy these Saratoga Backyard Wedding Photos?  Please visit our Wedding Photography Gallery for more.