Congress Park Engagement Session | Saratoga NY
I recently got to do an Engagement Photography Session for one of my Wedding Photography couples, Rose and Ryan.
I was very excited because not only were we going to do the session in historic Congress Park in Saratoga Springs, we were also going to the farm that has been in Rose's family for many generations. Her uncle is very artistic and has made some pretty unique sculptures, one of which is featured below. I asked Rose to tell me a little bit about how Ryan proposed and also give some history about the farm.
"Ryan and I got engaged on May 5th, 2012 in Maine. The evening was like one from a movie. We went out to dinner and afterwards we went for a walk on the beach (MoodyBeach). There were not a lot of people around on the beach and as we walked he kept talking about how special I was to him and I was starting to feel like something was up! When we reached the rocky area of the beach he pulled me close to him and I could feel his heart beating very fast! He looked me in the eyes and said that he had one more question to ask me. He got down on one knee and told me that I was his "earth angel" and he couldn't imagine life without me and asked me to marry him! So romantic and special for us! I loved every second of it!!
Some history about the farm- my grandmother(my mom's mom) moved to that house when she was 8 years old. She grew up there and eventually convinced my grandfather to live in her childhood home and farm the land. He was originally from a very big farm in Homer, NY. Sadly both of my grandparents
spy phone app order essay
are gone now, but they lived in that house and farmed the land and loved every inch of it. As a child I spent countless hours and days in the garden and out in the hay fields with my grandfather, brothers and Uncle. Small town farming was a part of my childhood and I wouldn't trade it for anything. I learned so much about gardening from my grandfather and I continue to recall his advice and use his techniques today.
Now that my grandparents are gone, my uncle continues to reside in the house. His love for art has evolved and he takes old rusty farm and tractor parts and restores them into unique and beautiful pieces of art. The arch in the photo was built from old farm equipment that I believe was used to harvest corn at one time. All the farm equipment is International Harvester and the arch is made from parts of a Silage Blower which blows corn up into the Silo. My grandfather and his father in law always saved any kind of equipment because you never knew what you might need a spare part for.
The arch itself is framed by 2 red milk cans that my grandfather used. He was a dairy farmer and he sold his milk to local companies and in the old days that's how they use to transport it, hard to believe that the old run down barn used to be a hoping place filled with cows, horses, chickens and lots of hay! One corner of the barn was the milking room too where he had the huge cold vats that the milk would go into to get processed. It was amazing how it all worked."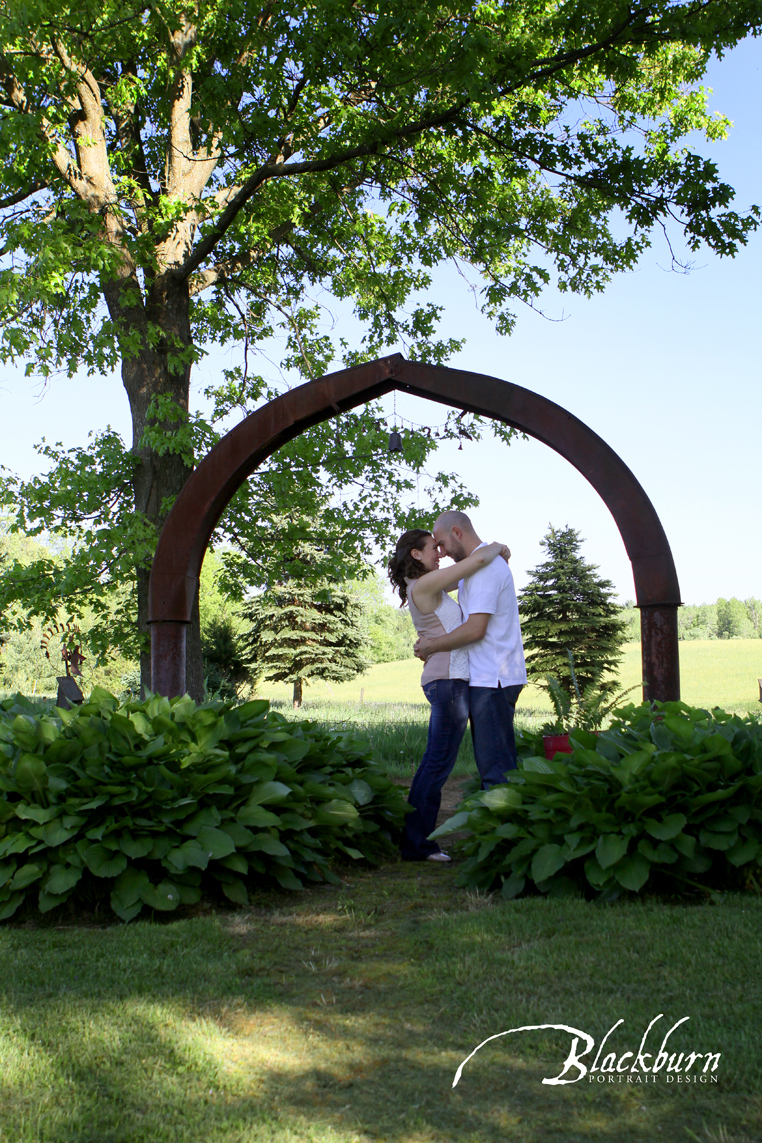 I loved photographing this session, especially when we went to Rose's family farm. I really like to incorporate places and things into my clients' photos that make them unique and different. I am really looking forward to photographing Ryan and Rose's wedding later on this year–I hear her uncle has some special things planned:)  Feel free to check out our Wedding Portfolio.  Would you like to create your own Saratoga Springs Engagement Photos? Please fill out a contact form or call 518.584.4237 to schedule a consultation.
Susan Blackburn of Blackburn Portrait Design is a Wedding and Portrait Photographer offering Photography services in Saratoga Springs, Lake George, the Adirondack Region and destinations worldwide.