Did you know that you can elope and still have a "real" wedding?
I recently photographed an elegant elopement for Alisha and Matt at Reverend Joy Burke's converted church/home in Saratoga Springs.  The bride and groom were beautifully attired, they had lovely flowers from Samantha Nass, and we did some great wedding photos at Yaddo Gardens.  The bride's dad even walked her in to the ceremony.  Below is their story:
How did you meet? In February 2009, Matt and I met through a mutual friend while in college in the Rochester area.  My friend and I used to do dinner at the dining hall every week.  One day, she told me she was going to invite one of her friends from class, who ended up being Matt.  When Matt and I first started talking, we hit it off immediately.  In the coming months, our friendship and feelings for one another grew.  In Fall 2009, shortly after I was accepted to study abroad the following semester, Matt told me that he liked me and took me on our first official date to the Cheesecake Factory.  When I went abroad, we kept in touch through Skype and I wrote him postcards from everywhere we traveled.  Less than a week after being home from Europe, I visited him in WNY for a few days where we first said, "I love you" and officially began dating.  We spent a few years dating before we eventually got jobs and moved South.
How did you become engaged?  After around 4-5 years of dating, our conversations about life together became more serious.  Around a year after we moved South, we got a dog.  Shortly after that, Matt got a ring, which I unwittingly stumbled upon in the midst of unpacking our new place (Matt was in another room when this happened).  A few months later, he took me on a day trip to the mountains where he popped the question, and I said yes!
How did you decide on your venue?  Originally, we had planned on a lakeside venue, not far from us in the Carolinas, booked for the Summer of 2018.  As we continued planning, from asking our bridesmaids and groomsmen, finding a wedding dress, to booking various vendors, we faced a hurdle.  A little over a year out until our big day, we were in town visiting family in the Capital Region when we were given some very difficult news regarding a close family member's health.  When Matt and I spoke, we both said that having them there was very important to us and because of this, chose to change our plans.  We decided we would attempt to have a "destination wedding" less than two weeks later back in Upstate NY.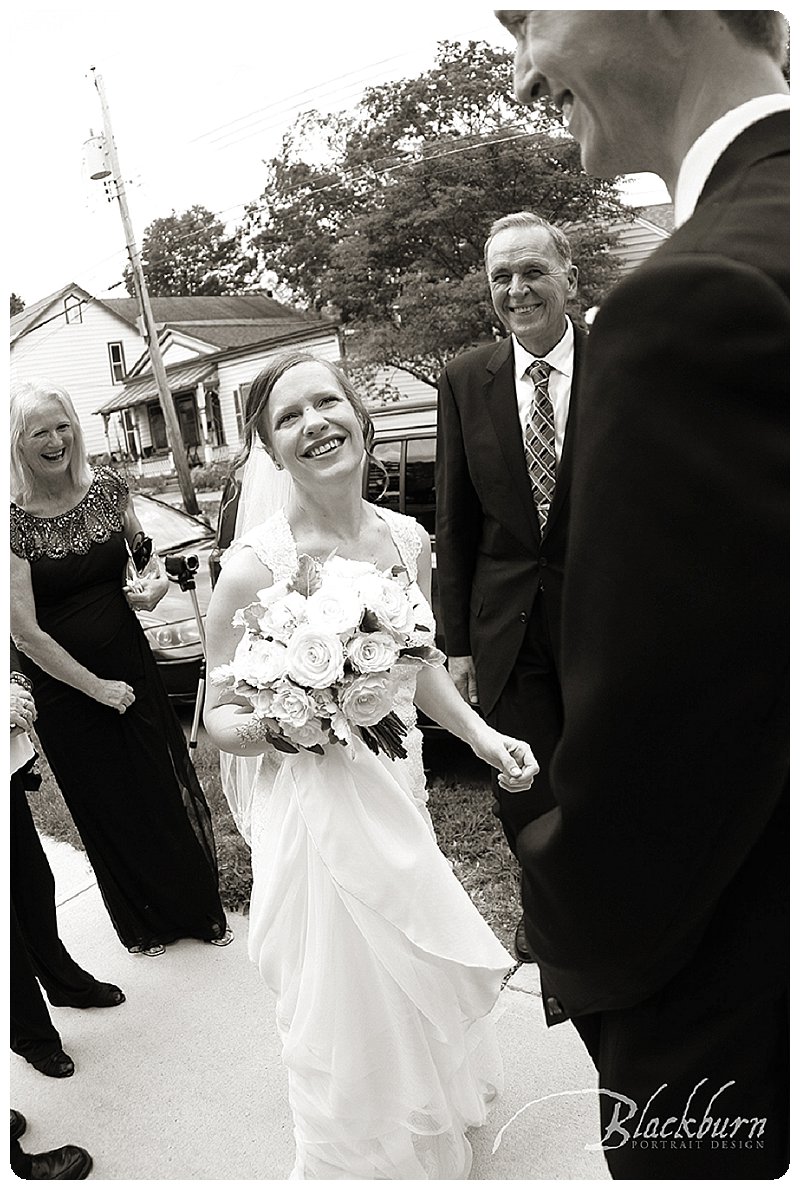 We came across Reverend Joy Burke's site and gave her a call.  She spoke with us about the intimate elopement ceremonies that she holds in her house (bonus:  a converted church) in Saratoga Springs.  As fate would have it, the one day that could work for all of us was our same day that we originally planned for, just a year earlier.  Joy also got us in touch with Susan as well as Samantha Nass for flowers, which made planning a wedding in such a short amount of time so much easier.
Less than a week after setting a date with Joy, we exchanged lifetime vows together surrounded by those that mean the most to us.  We also did photos at Yaddo Gardens with Susan then had dinner/hotel arrangements with Longfellow's with family.  While our day was not what we originally imagined, it was absolutely perfect.

Do you have any advice for couples planning a wedding?  Go with the flow.  Any couple planning a wedding knows it can be a lot of work, details, and stress.  Regardless of the challenges you may face along the way, things have a way of working themselves out.  Besides that, remember that ultimately, at the end of the day you get to marry your best friend so it does not get much better than that.
Vendors for Alisha and Matt's Elegant Elopement in Saratoga Springs NY:
Wedding Photographer | Susan Blackburn, Blackburn Portrait Design
Wedding Officiant | Reverend Joy Burke
Wedding Floral Design | Samantha Nass Floral Design
Did you enjoy reading this article about Alisha and Matt's Saratoga Springs Elopement?  You might also enjoy this Elopement Post.
Are you interested in booking a Wedding Photographer?  Be sure to check out our