One of the very rewarding parts of my job is to see the children I photograph grow up and change over time. It always amazes me how much can change in one year. I love to document these milestones for people. As a mom, I realize that sometimes you get so caught up in the day to day things like what you are going to make for dinner and how much laundry you have piled up. You also see your child change slowly over the year, but the difference is not that noticeable on a day to day basis–it is only when you look back at photographs that you can truly say, "Wow! What a difference a year makes!"
When I first met Lucas last year, he was just learning to walk and could not really talk very much. I loved his very blue eyes, blue outfit, and of course his coordinating plaid West Coast Stetson hat. He had a very calm demeanor and a serious nature.
Moving forward, Lucas' mom brought him in for pictures a few days ago. Wow, what a difference a year makes! He walks and talks up a storm! He was also exhibiting the classic two year old behavior of not wanting to do anything that was not really his own idea. But we worked around that and got some really cute photos of him. Sometimes with little kids you need to let them think that what you want them to do is really their idea in the first place. That and a few Cheerios will usually get you pretty far.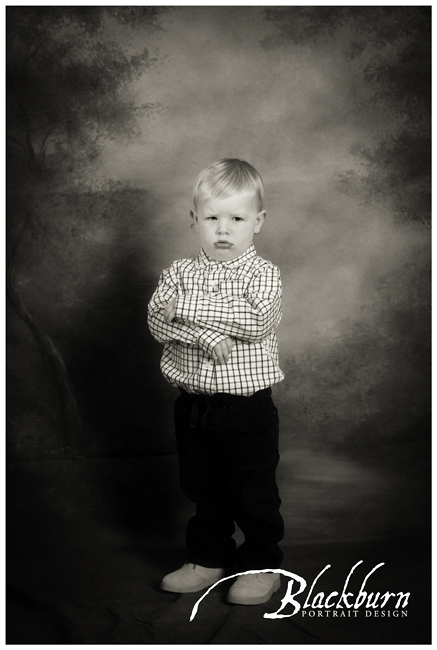 If you liked this post, you might also enjoy our Family Photography Legacy Post.
Interested in becoming a client? Please fill out a contact form or call 518.584.4237 to schedule your appointment.
Susan Blackburn of Blackburn Portrait Design is a Wedding and Portrait Photographer offering Photography services in Saratoga Springs, Lake George, the Adirondack Region and destinations worldwide.