Everyone loves a Winter Wedding, especially in Saratoga Springs.
This wedding had even more to love–it was a small, intimate winter wedding with fabulous details.  I have noticed a trend toward smaller weddings lately.  There are many people getting married who want a beautiful wedding without the major stress involved in planning a larger event.  Intimate weddings allow couples to have beautiful details with a fraction of the stress and cost.  What is not to love?!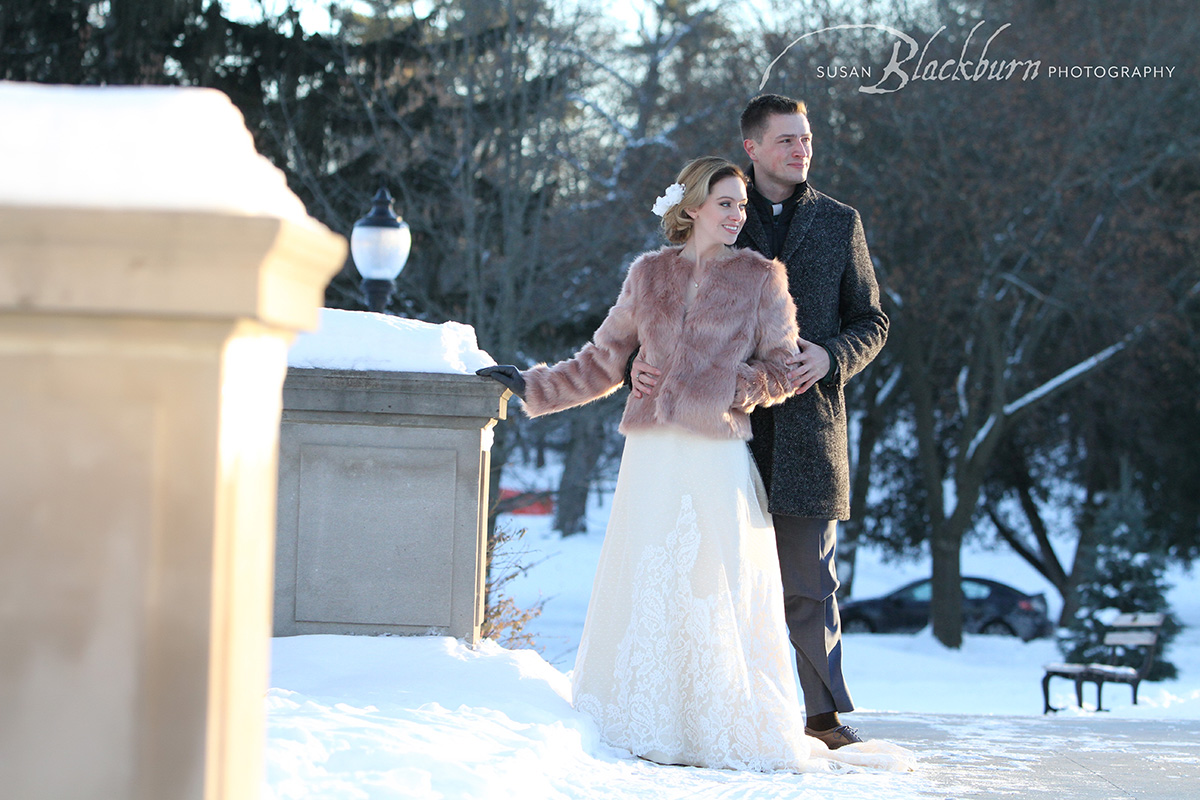 Kathryn and Dominick live in Saratoga Springs and decided to have their event at The Thirsty Owl, a local wine garden that features wines from their own vineyard in Cayuga Lake.  Add in a one of a kind dress from Something Bleu Bridal. Hair and Makeup by Make Me Fabulous, and lovely florals from Simply Sidney and you have a perfect bespoke Winter Wedding.  Read about Kathryn and Domenik's story below: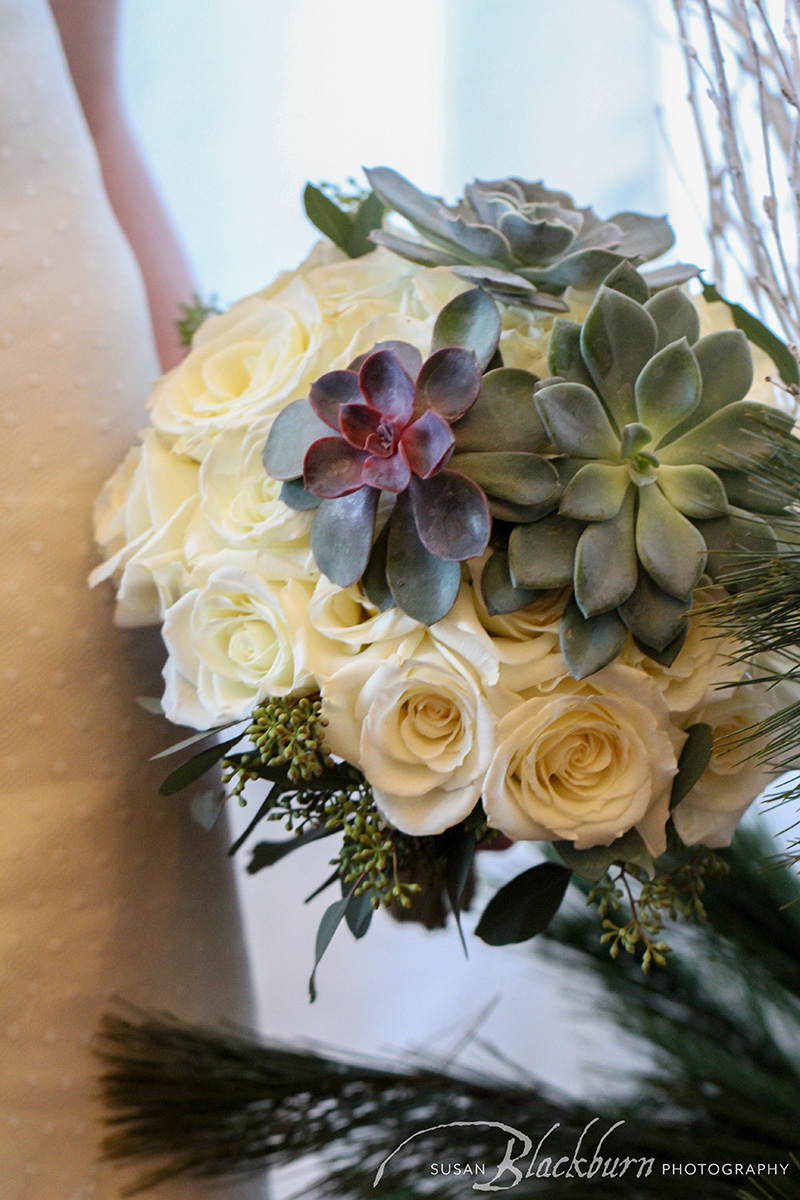 How did you first meet?
We met at the University of Maryland while Dominik was completing his PhD and I was working in a communications position and getting my MBA. I had a strict no-grad students policy with one exception: the "Hot German Grad Student" as I referred to him to my friends after he helped me clean up after a conference event.
How did he propose?
Dominik proposed at Yaddo at the beginning of October, just the two of us. It was perfect! He bought my ring from Fox after it caught my eye in the window and surprised me with it. The day was perfectly sunny and a little on the warm side for fall, so I was surprised he kept his jacket on until I turned around from photographing a rose to find him down on one knee.
What made you choose your venue?
The decision on where's/when's/how's of the wedding was much harder. Because neither of us are from the Saratoga area originally – and we are an international couple – having a traditional wedding was going to be a production and, inevitably, a destination for pretty much everyone involved.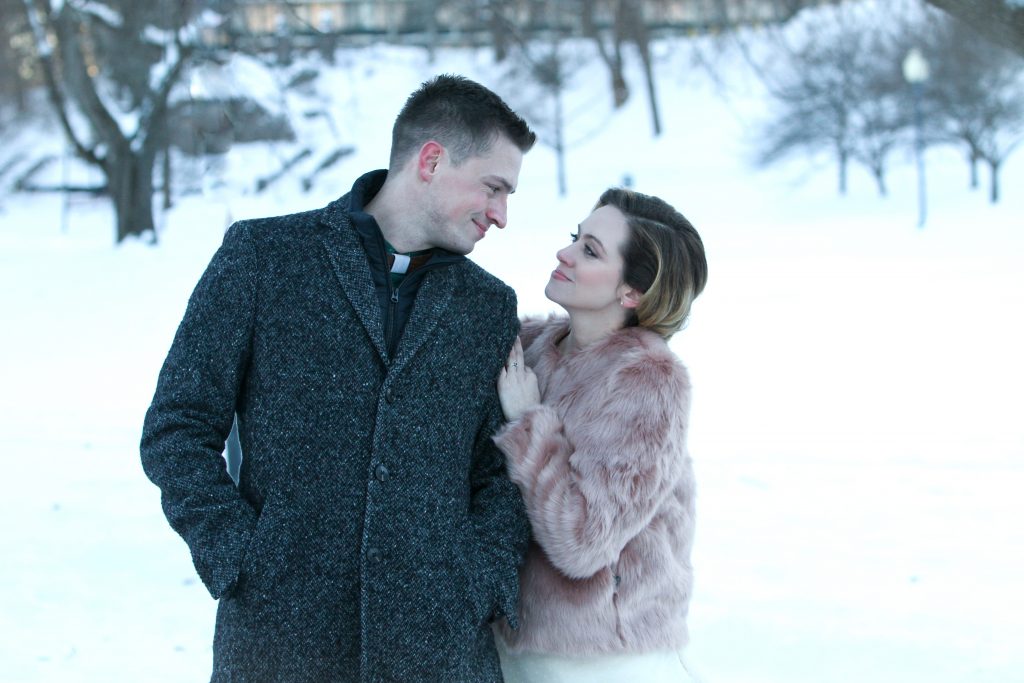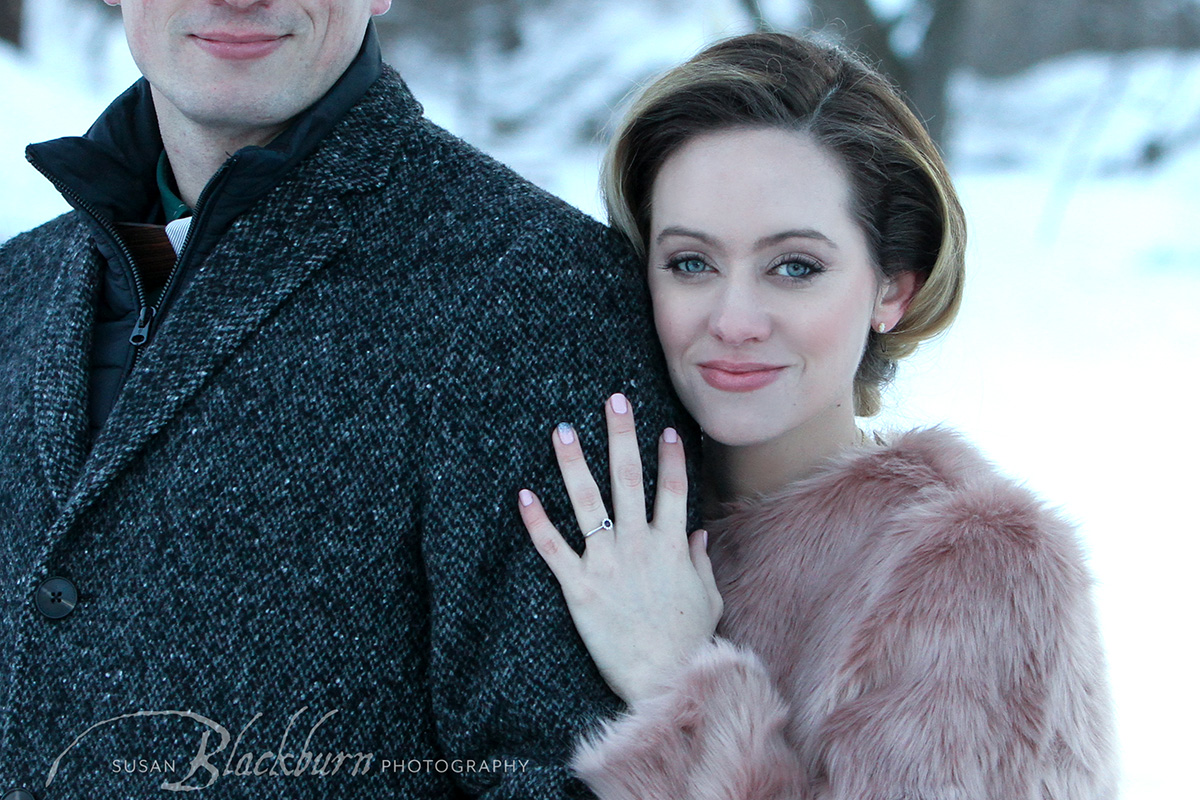 In the end, we realized that there was a perfect solution: an immediate family only wedding at Christmas when both our families were already planning to be in Saratoga for the holidays.
Tell us about planning your wedding:
Once that decision was made, everything else just fell into place. We immediately knew that we would have the ceremony and reception at the Thirsty Owl because their wine pairing dinners are one of our favorite date night treats (and Lyndsey and Josh are just fantastic)! In fact, the day I called to tell Lyndsey we wanted to get married there, I was meeting friends for happy hour at the Owl. When I ordered my wine, Lyndsey got a big grin on her face and was like, "I knew it! I just put three bottles of that wine away for your wedding". It's attention to detail and customer service like that that makes the Owl so special.
Flowers and photography were next on my list, and as you know Tas found out at knitting that I was getting married and he gave me your and Sidney's info. After doing a bit of investigating and talking to you both, I knew I couldn't possibly look anywhere else.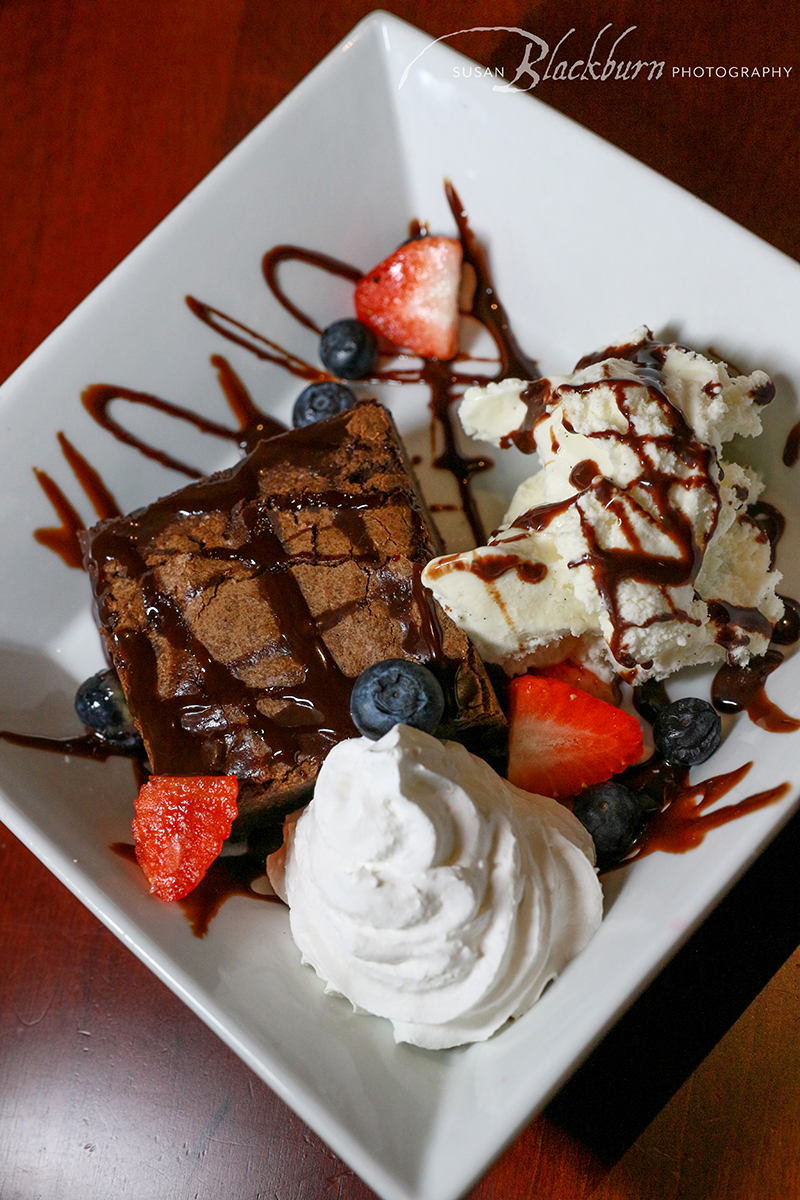 I was absolutely convinced I'd have a non-traditional wedding dress until I put on my French-lace dream of a gown at Something Bleu. I could not have found a more perfect gown if one had been designed for me. Honestly, my sister joked that maybe this one had.
Oh! And my coat was from H&M and I bought the shoes before the dress.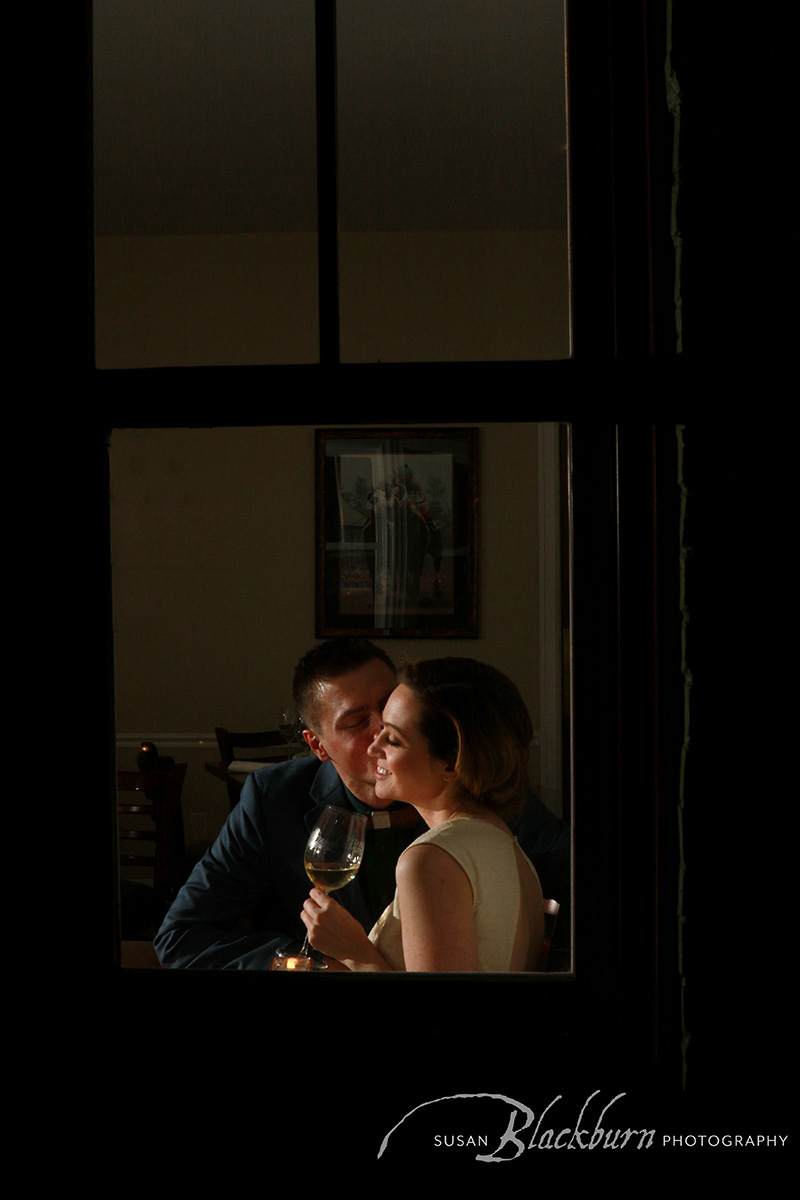 As you can see–small weddings are fantastic!
Congratulations to Kathryn and Domenik!
Wedding Vendors for Kathryn and Domenik's Saratoga Winter Wedding:
Wedding Photography | Blackburn Portrait Design                   Wedding Venue | The Thirsty Owl
Bride's Dress | Something Bleu Bridal                                         Wedding Flowers | Simply Sidney
Wedding Rings |  N Fox Jewelers                                                  Hair and Makeup | Make Me Fabulous     
Did you enjoy reading about Kathryn and Domenik's Intimate Winter Wedding in Saratoga Springs?  You might also enjoy this Winter Wedding in Lake Placid  Post.
Are you planning an Intimate Winter Wedding in Saratoga Springs? We would love to photograph it!  Please call (518) 584-4237 or use our Contact form to schedule a Wedding Photography Consultation.
Photographer Susan Blackburn of Susan Blackburn Photography specializes in photographing Seniors, Family, Weddings, Glamour, Boudoir & Commercial Photography sessions. With a photography studio location in Saratoga Springs, NY, Susan serves the Saratoga Springs, Lake George and the Adirondack Regions. She is also available for travel assignments.  Susan has been a professional photographer for 20 years. Her goal has always been simple—take pictures that her clients love.