Lake Placid Destination Wedding Photos
This past Valentine's Day, I was lucky enough to get to photograph a Destination Wedding at one of my favorite Destinations–Lake Placid.  I really enjoyed getting to know Jenny and Jason over the past year.  Their Winter Wedding in Lake Placid was very beautiful and romantic and totally suited them.  Below is their story:
How did you meet?
"We met when I was a junior in college, and I was at home on Winter Break working at a restaurant in Lake Placid to make some extra money.  Jason worked there full time and there was just this obvious attraction between us.   I was never able to forget about him when I went back to school.  When I graduated two years later and moved back home, I remember calling him and asking him if he wanted to go swimming off the dam in Lake Placid (which is where we had some of our engagement pictures taken).  We were in very different places in our lives then, but I had this feeling that I was going to marry him.  That Winter, I decided that I wanted to learn how to snowboard. . . he agreed to try it with me.  We had so much fun learning together and tumbling down the bunny hill.  That was when we really fell in love.  That Fall, I went to Law School.  Two years later, Jason decided to go back to school to pursue a dgeree in Special Education.  We were long distance for five years, but we always found a way to make it work–with lots of phone calls and lots of miles put on our cars visiting each other!
How did he propose?
"In March 2014, we took a vacation to one of our favorite places–St. John in the US Virgin Islands.  The first day, we hiked up Ram's Head Point, a small mountain that overlooks the southernmost point on St. John.  We were the only ones at the top when we arrived and the views were incredible with turquoise Caribbean water and small islands dotting the landscape."
Jason then said he wanted to tak a picture of us, and went to find a rock to place the camera on and set the self timer.  I remember thinking how slowly he was walking towards me and that the timer was going to go off!  When he got to me, he took me in his arms and then all of a sudden, he was down on one knee!  I was so surprised–he had convinced me that he was going to propose once he was done with school.  And so although I had secretly hoped for it to happen on St. John, I didn't think it was going to.  It was really once he took the ring out of his pocket that it hit me it was actually happening!  I can still see the ring sparkling in the sun while Jason held it and asked me to marry him.   And I said Yes!  (We also have the whole proposal on video as he set the camera on record–we played part of it at our wedding rehearsal dinner, which was really special)
What made you choose your date and venue?
"We got engaged in March and didn't want to have a long engagement.  We have been together for over seven years and just wanted to be married!  A Summer or Fall wedding seemed too quick to plan, and the following Summer was too far away.  We both love Winter and really fell in love in the Winter.  When we started thinking about a Winter wedding, we just knew that was perfect for us.  There just seemed to be something so cozy and romantic about it to us, and we were really excited to invite our friends and family to Lake Placid during our favorite time of year!  Jason is a teacher, so we had to pick a time when he had vacation days from school–President's Weekend was perfect for us because we could have our wedding then go on a honeymoon.
The Saturday of President's Day Weekend happened to be Valentine's Day as well–we had been through a lot in our relationship and our love has always found a way."
"We looked at a couple of venues in Lake Placid, but we knew we wanted to have our wedding at the Lake Placid Club Golf House when we saw it.  There are beautiful views of the mountains (many of which we have climbed together) and the inside is rustic in an elegant and classy way.  We were also excited about the fireplace, as we thought it would have the warm and cozy feeling we were hoping for."
What current trends did you include in your wedding?
I am not sure if we included any current trends or not!  We tried to make all of our decisions based on what we liked and envisioned.  We really tried to personalize the ceremony and reception and make it our own.
What advice would you give other couples when planning a wedding?
"Early on in the process, write down what getting married means to you and keep this where you can see it throughout the process.  It is very easy to get bogged down in the details and deciding what color napkins to choose and where the guests should sit–but the biggest accomplishment of the planning is that at the end of the day, you will be married to your best friend, and all your family and friends have come together to celebrate that!"
"Also, try to enjoy the process itself.  All the fun moments, like picking out the venue together, choosing your dress, getting your dress alterations, selecting meals to the more logistical details.  It is all part of the planning process that leads to everything coming together on your big day.  Have fun with it and enjoy this time!  But do make sure to designate time with your fiance that you don't talk about or plan the wedding!"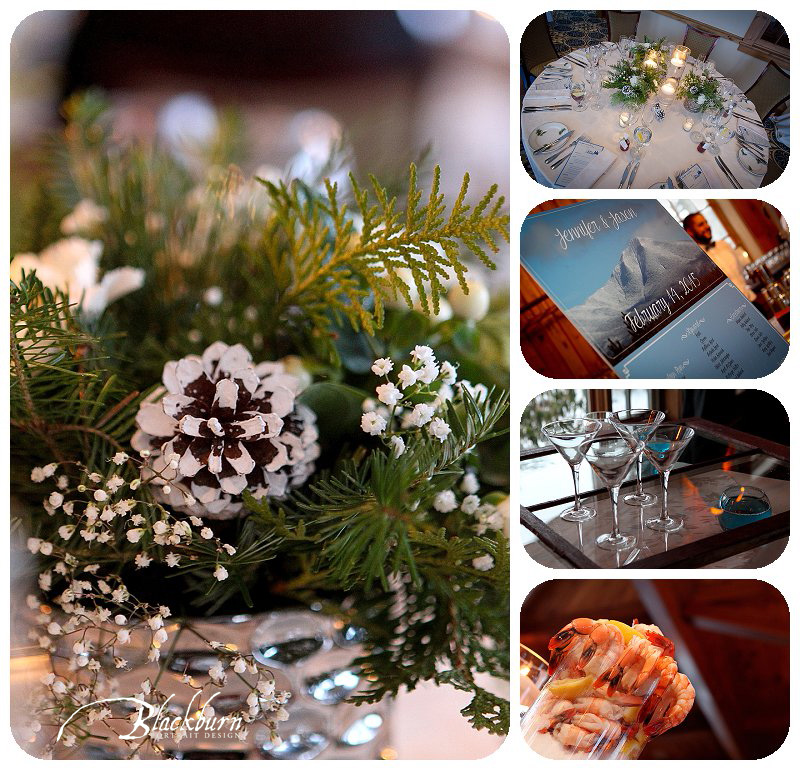 Is there anything you would have done differently if you could do it over?
"Looking back on our wedding day, it was our perfect day.  If I had to do it all over again, I would do it exactly the same."
What is up next for you as a couple?
"Well, we are actually going to go on a second honeymoon!  Our flight to St. John after the wedding was cancelled due to weather, and so when those plans fell through we ended up going to Stowe, VT instead.  We had a great time snowboarding and cross country skiing on what we are calling our "Winter Moon."  We were able to reschedule all of our reservations in St. John and are looking forward to soaking up the sun!  After that, we are looking forward to enjoying our new home together with our dog Dexter, doing some renovations and barbequing on our deck this summer."
Lake Placid Wedding Vendors for Jenny and Jason's Wedding:
Lake Placid Wedding Photography | Blackburn Portrait Design
Lake Placid Wedding Planning | Juniper Events, Mimi Franz
Hair and Makeup Artistry | River Rock Salon
Lake Placid Wedding Venue | Lake Placid Club Golf House
Entertainment | Lake Placid DJ Lee Kyler
Florist | East Branch Organics
Dress Designer | Justin Alexander
Church | St. Agnes
Did you enjoy this beautiful Lake Placid Destination Wedding Post?  You might also enjoy this Destination Wedding Post as well.
Are you ready to book a Wedding Photographer for you own Destination Wedding?  Fabulous–let's talk!  Give us a call at (518) 584-4237 today or use our Contact Form to get in touch.