As a Saratoga Wedding Photographer, I am always looking for ways to photograph my clients differently.  The last thing I want is to create the same cookie cutter pictures in the exact same way for all my clients.  I feel like every wedding or portrait session is unique, so I am continually looking for something to make the photos a little different.  They need to fit with the personality of the client.  I am so excited about the wedding I photographed last evening down in Albany at the State Room.  Immediately following the ceremony, we did formal photos during the day in Glens Falls, both at the church and in Crandall Park.  But I was really excited because the reception was in Albany so we got to do some really cool night photos of the the bridal couple, Yulia and Dan.  I will be blogging the entire wedding later on, but I wanted to get some of these up to share.  I am really enjoying using off camera flash in some of my photographs.  I think it can make the photos more dramatic and enhance the feeling of the images.
In the two images below, I noticed this building and wanted to create a dramatic, contemporary set of photos for the couple.  I wanted to have a slightly higher angle on the light to emphasize the great bone structure of Yulia's face.  The light made the images feel really modern.  I also really like the expression on Yulia's face in the first shot–almost wistful.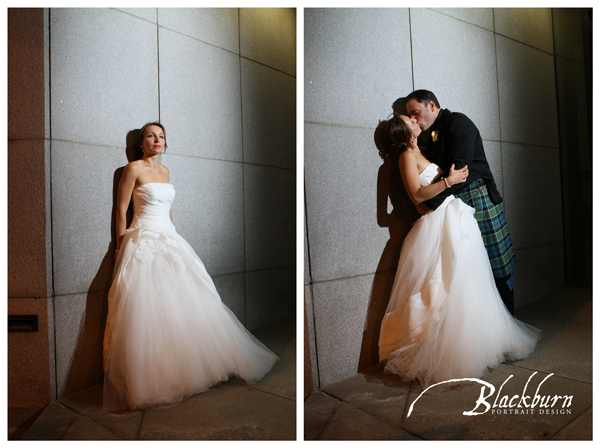 In the next image, the location is more Victorian because of the period clock and the street lamps.  It also helps that the Dan is wearing a kilt and Yulia is in a ball gown.
I really like it when I can capture different moods in the same session as I did on this event.  I think both sets of images are romantic, but in completely different ways.
If you liked these images, check out Dan and Yulia's Engagement Photography Session on Lake George.   And be sure to check out our Wedding Photography Gallery for more Wedding Photos.
Interested in creating some unique photos?  Please fill out the contact form or call 518.584.4237.
If you liked what you saw, please feel free to leave some love for Yulia and Dan below.
Hope you have enjoyed these wedding photos by Saratoga Wedding Photographer Susan Blackburn of Blackburn Portrait Design.