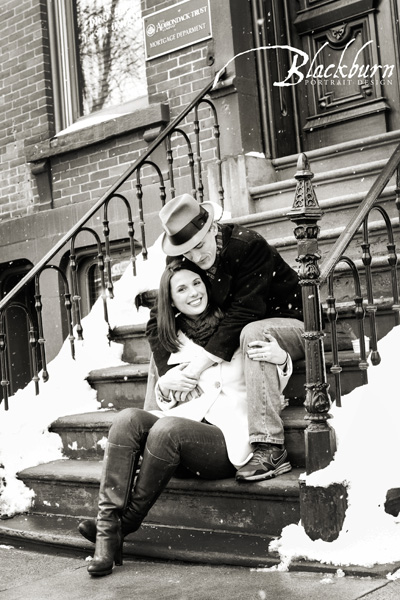 So today I had a ton of fun photographing this couple's Engagement Photos in downtown Saratoga Springs.  Today was the day after Valentine's Day and a major snowstorm in the Northeast.  The weather, however, really was pretty nice–on the warm side (if 30 degrees can feel warm), no wind and only a few snow flakes.  I will blog more about this couple and Engagement Photography Session in a little bit, but I was really excited so I needed to post this photo.
The thing I like most about this Engagement Photo is that it is not really one of your typical Engagement Photos.  During the session, we were discussing how this couple is into the 1950s.  Michael had this great fedora that he was wearing, along with his black pea coat.  Samantha was telling me how at Christmas sometimes they go down to the Palace Theater to watch It's a Wonderful Life.  It was lightly snowing–really just added to the ambiance.   The mood was kind of like a movie from the 1950s.  So when I was processing this image in Photoshop, I went with black and white instead of color.  I wanted it to feel like a still shot from a movie set that would have been used for publicity.
I really like the mood of this engagement photo.  I can kind of see this as printed on sheet metal pretty large. I really don't like the work I produce for my clients to be the same in every session.  I think the challenge in portrait or wedding photography is to make sure that you reflect who your subject(s) is/are.
Are you ready to book an Engagement Session with Saratoga Springs Photographer Susan Blackburn?  Please call (518) 584-4237 or use our Contact Form.  Be sure to also check out our Saratoga Springs Wedding Photography Portfolio.
Saratoga Springs Photographer Susan Blackburn photographs Engagement Sessions in Saratoga Springs, Lake George, the Adirondack region and beyond.  Contact Susan at (518) 584-4237.