Holiday Photos–everyone needs them!  Even though I was a photographer when my kids were small, it was something that made me break out in a cold sweat.  My friends and family wanted to see my kids in a photo every year, but organizing everything and making sure it was perfect was really tough.  And the only other option was JC Penney or Mall Santa.  Sooo….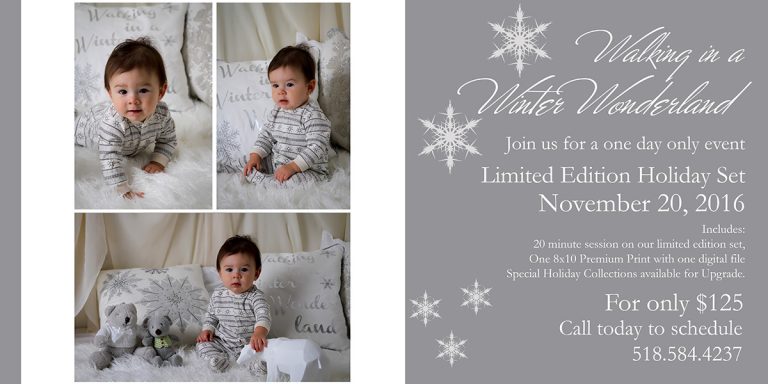 I am very excited to announce that we will be offering a one day only event on November 20 for Holiday photos.  We will have time slots available from 10 AM until 6 PM.  This event is perfect if you need to have a photo for your holiday cards.  The set being offered this year is a neutral white, grey and silver.  We recommend you dress in similar colors/tones for the best results.
The sessions are short–20 minutes.  You will have 5 to 10 images to choose from at a personal viewing session later in the week. You will receive an 8×10 premium print, as well as the corresponding digital file to make Christmas cards or small gift prints with.  We will also be offering special holiday collections starting at $300 if you would like to purchase additional prints/files.
We do not do mini sessions very often–maybe once every two or three years–so they tend to sell out very quickly.  We also do not extend the event due to the Thanksgiving holiday.  So once the event is sold out, that is it:)
Call 518.584.4237 to schedule your time slot today.
If you need help preparing for your family photos, check out this blog post.  Be sure to check out our Portrait Gallery as well.
Susan Blackburn is a Portrait Photographer located in Saratoga Springs NY.  She services clients in Saratoga Springs, Lake George, the Adirondacks and beyond.  Call 518.584.4237 to schedule an appointment today.