OK, so I was just reading an article on Wedding Trends for this year at Bridalguide.com, and I am so happy to report that my brides, as always, are right on trend (and many are way ahead of trend, but that is a subject for another post).  The fun part of being a wedding photographer, especially in an area like Saratoga and the Adirondacks, is seeing what things are trending and how people personalize their event to make it their own.  The following are some of the trends that are current:
1.  Invitations–Pattern or pictures are very current.  Invitations with pockets and folds to lend a three dimensional look are big this year.  Also, there is a trend toward gleam and glitter with silver or gold foil accents.  Monograms are still in vogue.  Getting photos of you invitations can really help add to the overall design of your wedding album.
2.  Going Green–a move toward recyclable or sustainable products, particularly in paper goods and invitations.  Plantable trees as favors for guests are gaining in popularity for centerpieces.
3.  Black Tie is back!  Yay!  So handsome.
4.  Flowers with a delicate petal, such as peonies or roses are on trend right now.
5.  English Garden floral design–Brides are looking for arrangements that feel like the flowers were just picked from a formal English Estate garden rather than informal, "weedy" looking arrangements.  Bouquets with tons of green are definitely on the way out, as are orchids.
6.  Garlands are big–either as floral arrangements, paper garlands or garlands hanging from chandeliers.
7.  Barware with a vintage feel–think the look of a champagne saucer instead of a flute.  Or mint juleps served in silver cups.  Martini bars are on the way out and are being replaced with artisanal cocktails.  People are looking to make a statement with signature cocktails.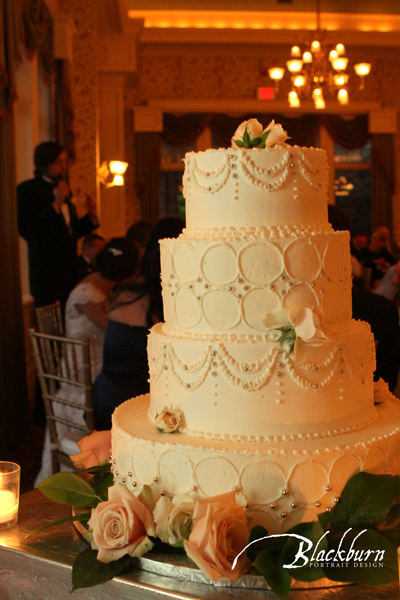 8.  Wedding cake silhouettes are returning to a more traditional shape.
9.  The Pantone color of this year is emerald.  Looks great for shoes, especially in an unexpected combination for weddings like suede with a cork heel.
10.  Chandeliers in outdoor areas to make the space feel more formal or whimsical.
11.  Color in the bride's dress–YAY!
I love seeing the current trends my brides choose to incorporate in their weddings.  I especially like that all of them put their own twist on things to reflect their individuality.  If you are on the cutting edge, we would love to photograph your wedding.
Want to see more on wedding photos?  Click here.  Are you looking for a Saratoga Wedding Photographer?  Visit our page on how to choose a Saratoga Wedding Photographer.
Saratoga Wedding Photography by Blackburn Portrait Design