Working as a Family and Wedding Photographer in Saratoga over the last several years, I have been very privileged and blessed to work with some extremely talented and lovely people. One of these people is Joanna Romanzo of Lipstick N Lashes. She and her staff have done hair and makeup for my clients and are all great people to work with. In addition to owning and operating her own business, Joanna is a mom with two sons and a daughter. Recently, Joanna asked me to photograph her family with their Siberian Husky, Sarge.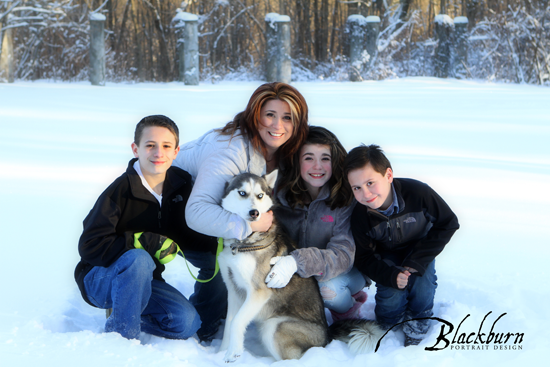 I asked Joanna to tell me a little bit about her kids. Here is what she had to say:
"Trajian is 14 and is definitely all boy! When not around his friends, he is definitely a mamma's boy. He is a leader, not a follower. He likes to play video games, longboard and loves his puppy Sarge! Bella is 11 and is all girl! She is very caring but can stand her ground, and I love that about her! She has a great group of friends that shes had for years and really values her friendships. Reece is is 9 (10 in 3 weeks) and is my baby. He is the sweetest and most selfless kid. He loves his family and his animals so much! My kids are my world and I would go to the ends of the earth for them. I love each of them so much!"
We had fresh snow and Joanna wanted to do outdoor pictures. First off, it was cold. I mean COLD. Like Your-Nose-Hairs-Freeze cold. Takes-Your-Breath-Away Cold. I made some hot chocolate (recipe below) and stuck it in a thermos and away we went. The kids were really great–no whining and complaining from anyone–even though I knew how cold and miserable they had to be.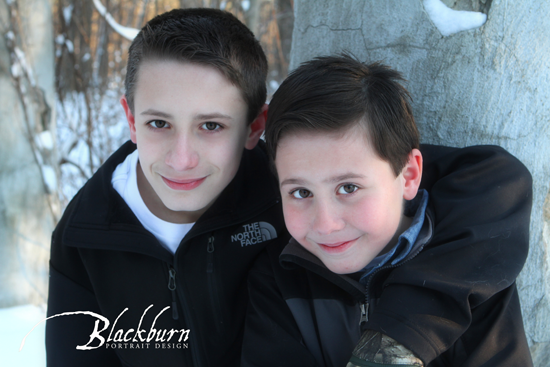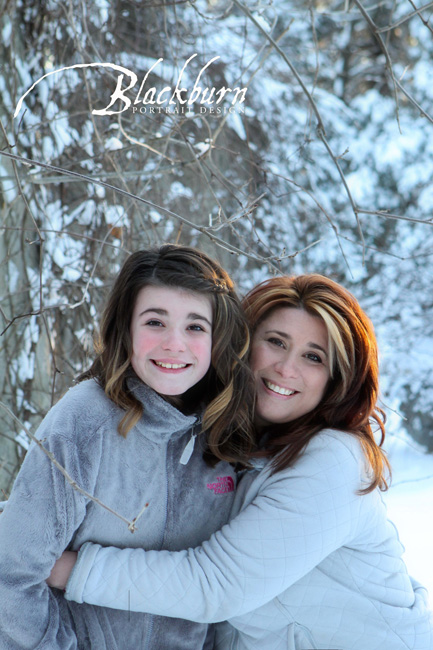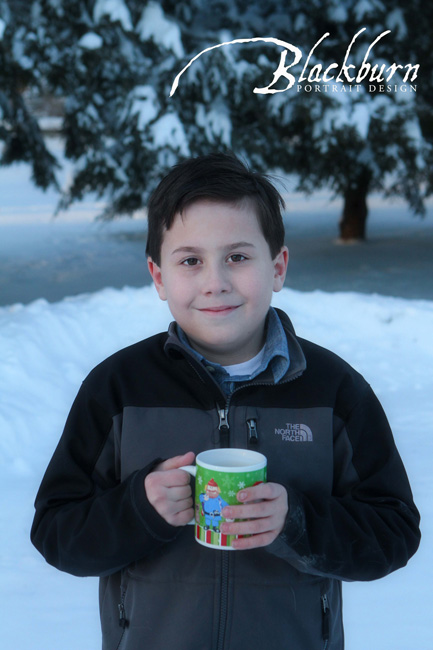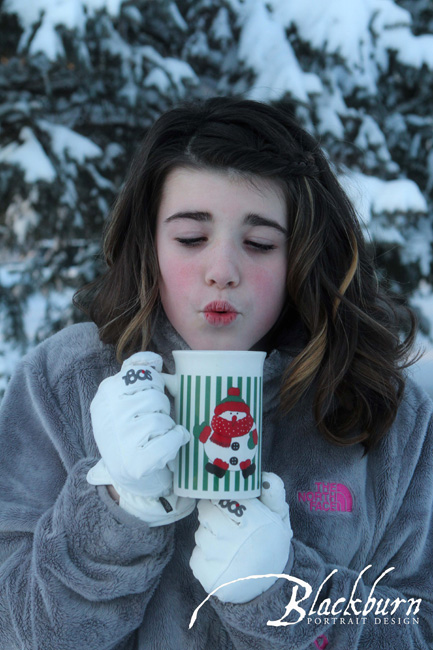 So here is the Not-So-Secret-Hot-Chocolate Recipe (it is on the back of the Hershey's Cocoa box, but don't tell anyone):
1/2 Cup of Sugar
1/3 Cup Hot Water
1/4 Cup of Hershey's Cocoa 4 Cups of Milk
Dash of Salt 3/4 Tsp. of Vanilla
1. Mix sugar, cocoa and salt in saucepan; stir in water. 2. Cook and stir over medium heat until mixture boils; boil and stir 2 minutes. 3. Stir in milk and heat. DO NOT BOIL. 4. Remove from heat, and add vanilla.
Put it in a thermos and go about your business.
Are you interested in creating some unusual family photographs? Please fill in our contact form or call (518) 584-4237 to schedule a consultation. Want to see more family portraits? Check out our Children and Families Portrait Gallery.
Susan Blackburn is a Saratoga Springs Photographer specializing in Wedding Photography and Portrait Photography in Upstate New York.