Inn at Erlowest Fall Wedding
This past September, I had the pleasure of creating Britta and Nathan's Lake George wedding photos on at the fantastic Inn at Erlowest on the lake. The day was beautiful, and we were able to capture some amazing wedding photos! Below is their story–have fun getting to know them!
1. How did you first meet? Who, what, where, when and why. Give us the dirty details. We met on eHarmony (*gasp, we know… online dating?) and after nearly a month of back and forth, decided to "meet in the middle" which, long story short, ended up being at Ben & Jerry's in Rutland, VT. Nothing like ice cream in March in VT… what a suave choice. Upon meeting, Nate's first thought was "Holy sh*t, she's gorgeous. I am not even going to be able to talk to this girl." meanwhile Britta's first thought was "Oh my God, he's hot! How is this guy single!? Do not mess this up." After a few cups of chubby hubby (and Britta had decided there was only a small chance he would chop her up and eat her), we both agreed the date shouldn't end at ice cream, and we went snowshoeing at Kent Pond Wilderness Area in Killington, VT. We finished the night with an intimate dinner at a French bistro leaving both of us wanting to see each other again as soon as we could.
2. When did you know he/she was the one? Was there something he/she did or said, etc.? Britta knew Nathan was the one about a month into dating. He loved the same music as she did. They both loved trying new foods, going on adventures, and of course making each other laugh. Nathan made her feel whole and complete. Britta says that "Home" is whenever she's with him, no matter where they are.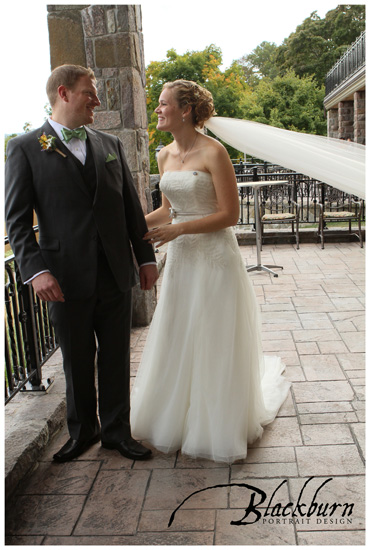 Nate didn't really have a timeframe of when he knew. He knew that they were just right for each other and that they were supposed to be together and share life's adventures.
3. Tell us about the proposal–did you know it was coming? How long was it in the planning? How did you feel? Nervous, excited, etc.? Britta moved to Waterbury, VT the day after Thanksgiving. Almost a month later, Nathan told Britta that he was going to go to his brother, Jed's, house to wrap Christmas presents. Two and a half hours later, Nate returned and asked her to go for a walk with their Golden Retriever, Kona. Britta didn't want to as it was cold, windy, and snowing. But Nate protested as Christmas was around the corner and there would be less time for exercise with him. Britta finally agreed and put his ski jacket and a furry flapped winter hat on. They went on the typical trail they walk with Kona along the Winooski River. The three of them turned the corner near a cornfield and in the distance, Britta noticed lights hanging in the tress. Britta stated that a Vermonter must have decorated the trail for the holidays (because that is kind of community they live in). They walked towards it for a closer look. Kona was bounding through the snow as Nathan and Britta fought against some wind and snow in their faces. In the back corner of the cornfield, closest to the river, they entered the wooded area. A large gust of wind and snow blew in Britta's face and she covered her face. When she brought her hand down, Nathan was on one knee in the snow, surrounded by over 200 white lights hanging from the trees. Nathan asked, "Britta, will you marry me?" as Kona came and sat in the snow next to him. Britta dropped to her knees and repeated "Yes! Yes!" Britta had no clue that this would be the night that Nathan would become her fiancé. Afterwards, they went to a nice dinner at NECI on Main in Montpelier, VT.
4. Tell us one thing you love most about the other person. Nathan makes Britta feel like no matter what, she is not alone and is loved. He is kind and thoughtful and you always know where you stand with him. He is a true gentleman who makes her laugh and smile all the time and has the adventurous side that fits Britta perfectly. Nate loves that Britta is Britta. She is fun and compassionate and not afraid to be herself.
5. How did you choose your venue? What did you do to personalize your event? Do you have any favorite wedding trends that you incorporated?
We love Lake George, NY. Nathan grew up on the north end of the lake and it's not so far from Britta's hometown of Saratoga Springs, NY. We visited several sites in the winter that were very nice, but when we visited the Inn at Erlowest, everything just felt right. It is beautiful there, and though it was winter time, we imagined a gorgeous day in September with the leaves changing on the lake. The Erlowest is classy, but a fun place to celebrate! We wanted to involve as much personalization as they could. Instead of a book of signatures, the guest book was a personalized hand drawn tree on recycled paper where guests chose a fall color to "leaf" their thumbprints. We slaved over a hot stove many days to perfect the recipe for our favors of homemade salted caramels. We hung pictures of family from their wedding days as well as having the tables named after all the bodies of water and beaches they've hiked since meeting. For the centerpieces, Nathan, Britta, and Kona searched a special beach on Lake Champlain for specific lake rocks that are special to this particular beach–they are black with bands of white. We incorporated a particular heart stamp pattern throughout the process, which was placed on Save-the-dates, Invitations, seating and table cards, and the favor boxes. The wedding had a classy, yet Adirondack and natural feeling to it. Britta wore a brooch which was given to her great-aunt (Britta's wedding band is also her great-aunt's) on her wedding day by her mother, which Britta's sister, Kristin, wore on her wedding day as well. Britta incorporated flowers into her bridal bouquet that have been present in the bridal bouquets of both her grandmothers, great-aunt, mother, and sister.
6. What is one thing you wish you had known about planning a wedding before you began? Is there anything you would have done differently? Planning was long and stressful. It tested much of our ideas that we both had for the big day. Through all the compromising and creating, it all paid off. Planning a grand wedding was tough, but in the end, the only thing that matters is that we are husband and wife in the end. We loved that many of the people we love were able to come together and celebrate the joining of the two families! The only thing we wish could've been different is to have the DJ play his tunes longer so everyone could continue to dance!
7. What is next for you as a couple? We are enjoying being a married couple. It is interesting for Britta to introduce herself as Mrs. Hock and refer to Nathan as her husband. Nathan and Britta are on the hunt to find a home for the new Hock family!
Vendor List: Wedding Photography: Blackburn Portrait Design, Saratoga Springs, NY Florist: Rebecca's Florist, Warrensburg, NY Ceremony Location : The Inn at Erlowest, Lake George, NY Reception Location: The Inn at Erlowest, Lake George, NY Wedding Planner | Alexis Wallace, The Inn at Erlowest Entertainment: Frank Root, DJ Andy Pratt Dress Designer: Vera Wang Cake : Debbie Alberino, The Lake George Baking Company, Lake George, NY Rings: DeJonghe Jewelers, Saratoga Springs, NY We hope you have enjoyed these Lake George Wedding Photos. If you would like to see more Lake George Wedding Photos, please visit our Wedding Photography Gallery. Please call (518)584-4237 to schedule a consultation with Susan Blackburn.
Susan Blackburn is a Saratoga Springs Photographer specializing in Wedding and Portrait Photography.  Susan serves clients in Saratoga Springs, Lake George and the Adirondack Region.  She is also available for travel worldwide.