Welcome Baby Ivy Olivia! | Saratoga Springs NY Newborn Photos
I was recently introduced to a very charming young lady–Ivy Olivia. You see, one of my wedding vendor friends, Chris, and his lovely wife Donna, had a beautiful baby girl. Ivy joins two older sisters in the Wright household and is a Facebook sensation. I was so happy to photograph this newborn baby girl–Welcome to the World, Ivy! Ivy was a superstar and slept through the entire photography process! I love photographing newborn babies, and I knew I would want to post some pictures of Ivy, so I asked Chris to tell me a little bit about his family's experience.
How did you find out you two were having a baby? Donna and I had discussed having a baby often during our time together, but nothing happened naturally on it's own. We had the mentality of, if happens, it happens–otherwise, not going to stress over it or seek intervention. We had one agreement. If she hit 40, the deal was off. She was now 39 and June 2013 was fast approaching. So we basically assumed it was over. We would just grow old loving our 2 that we had. No loss there–they fulfill our lives.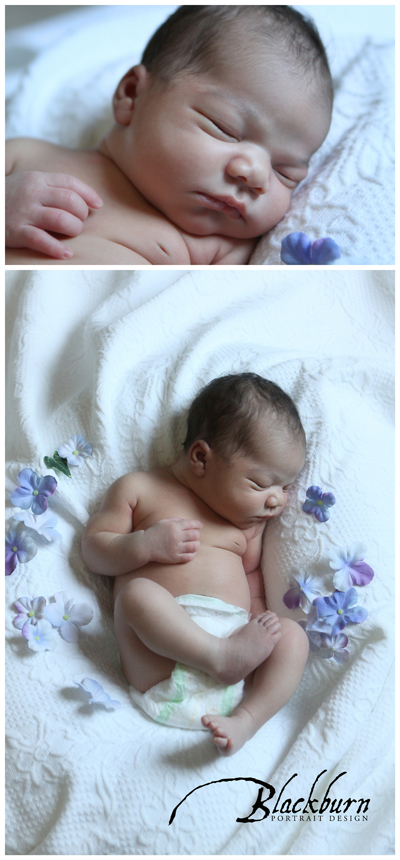 On Saturday, 9/22/2012, I was the DJ at a wedding in Dutchess County. The wedding was actually referred to me by one of our best friends, and that best friend was AT the wedding that I was performing at. That day, since I was out of town, Donna decided to go to a friends house for socializing and wine. The conversation turned to Donna's latest body changes, and her friend Julie suggested she take a pregnancy test. Julie just happened to have an unopened box in her medicine cabinet. Lo and behold the test came out positive! Donna texted me a picture of the results. I became flushed and got goosebumps because it was totally unexpected. We had all but given up. I shared my new surprise with my our friend Kathleen at the wedding, and we commenced to tell not only the bridal party, but all of the guests in attendance! It was a fun celebration.
How did you choose the name "Ivy Olivia?"
I had always liked the character and the name "Olivia" from the movie The Color Purple. I told quite a few people that I loved the name "Olivia". I was preparing for a girl. However, if it were a boy, I like eccentric names like Maximilian and Roger. Not very common today. For some reason, I was stuck on Roger, mainly because he's my favorite character on the show "Mad Men" and it's such an astute adult gentleman's name. Olivia was a name for an old soul. Donna was not a fan of either. S he only 'liked' Olivia, but didn't love it. She liked Madeleine. Not only do I not like Madeleine, I despise that name. Too many in the world. I think on the names list it was in the top 5 names in the world. I wanted no part of that. And lastly, of course Christopher came into play. Two things happened around the same time. First, we found out the sex of the child. It was going to be a girl. Next, I fell in love with the new ABC suspense drama Scandal and the leading character was none other than "Olivia". It was destiny. Everyone who knows of Scandal knows and loves Olivia Pope! My mind was made up. It was Olivia or nothing for me. Strong woman. Leader. Presidential. Woman of color. Beautiful. Sexy. Powerful. This was going to be my daughter. Donna still was not sold. Ironically, one day the same friend that she was with when she discovered the pregnancy with was at our house this time, having wine. We were having general discussions and celebrities came up. We were laughing at how Jay-Z and Beyonce named their baby "Blue". But her name was Blue Ivy Carter in full. I happened to say, I like the Ivy part, but not a fan of blue. Donna and Julie agreed. I dropped it. I did not want to be the guy that named his kid after a celebrity's kid. But the girls were persistent. "I like IVY, I really do. Honey, we should name her IVY". Finally, I agreed. On one term–The middle name must be Olivia. There. Ivy Olivia! First name after a celebrities child, second name after a character in the Color Purple and Scandal. Nice. How was labor and delivery?
The pregnancy was fairly normal. Nothing out of sorts. We were warned that because of Donna's age, they would not let her go past her due date of May 24th. Backdrop–Mariah and Halle's birthdays are both in June. Donna's birthday is in June. And Ivy was shooting for June. This is a crazy month for daddy. Even in May, I have four birthdays within 30 days. Crazy. Nevertheless, late May came and Ivy did not, so they scheduled Donna to come in on the 23rd for induction of labor. We arrived at the hospital at 7 am. Contractions began just after 12 noon. By 5 pm the contractions were more frequent and more painful. Pain meds were given and Donna slept. Five hours later, 10 pm, it was all she could take.–"Get this baby out!" The midwife came and we began the pushing. For 2 hours! Donna was fatigued. Couldn't go any further. The nurse and the midwife kept encouraging her to go, but Donna had nothing left. I was afraid to look. But finally I got the courage to take a look.–and OMG, I actually saw a hairy head. I yelled "Baby! It's really there!". They grabbed a mirror so that Donna could see. Seeing the hairy head gave Donna one last bit of motivation to push as hard as she could. On May 24th at 12:14 AM, Ivy Olivia Wright was born."
I consider myself to be very fortunate because I meet the most interesting and extraordinary people as a photographer. Thank you Donna and Chris for sharing your newborn daughter with me! Can't wait to see how she grows up!
Are you interested in Newborn photos?  Use our Contact Form or call (518) 584-4237 to schedule a consultation.
Susan Blackburn of Blackburn Portrait Design is a Wedding and Portrait Photographer in Upstate NY, serving Saratoga, Lake George, the Adirondacks, and beyond.