Baby Love–I love creating Maternity and Newborn Photography for my clients.
Maternity and Newborn Photography holds a special place in my heart.  Creating images like these makes my heart sing. Because I am a Mom, I know how fast those precious baby days fly by. That is why I love to capture some really special images for women like this. I think it is so important to have some really beautiful images of this very special time in a woman's life. I recently photographed a lovely new mama and her son.
For this particular shoot, I had my friend Samantha Nass make a floral wreath for a headpiece. It really made the look for the shoot come together. For this shoot, I wanted the colors and textures to be soft and creamy to compliment the skin tones.
I like capturing the bond between a new mother and her baby. How special for a child to see how much his mother loved him right from the start. I love to capture sleeping babies, but it is nice to get some pictures of them awake as well. This freaks some photographers out as it can be a little more difficult to get a good image, but I think it is especially nice when they are old enough to be able to actually focus their eyes and track movement.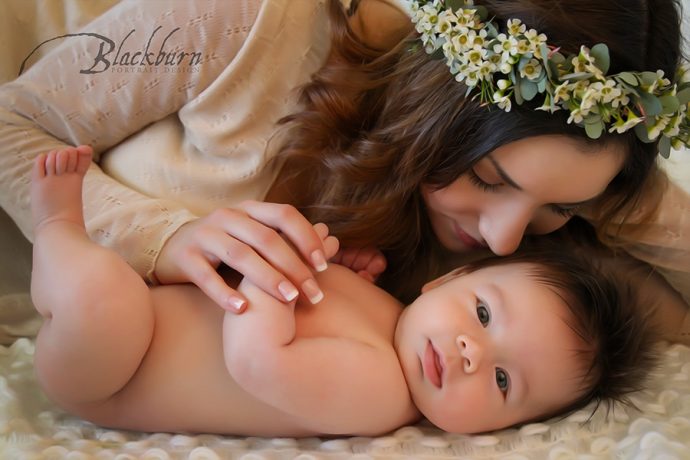 I am so grateful that I have the opportunity to create art for my clients like this. Did you enjoy this Maternity/Newborn Blog? You might also like this post about Preparing for a Maternity Photo Session. Are you interested in having your Maternity or Newborn Portraits created? Please call (518) 584-4237 to schedule a consultation today. I would love to photograph you.