Backyard Wedding in Saratoga NY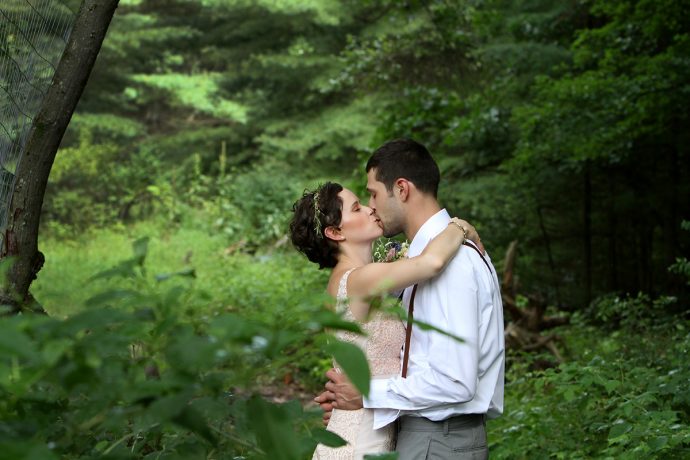 I recently had the opportunity to photograph my friend Leslie's backyard wedding in Saratoga, NY to her partner Jamie.  It was an intimate backyard wedding with tons of help from family and friends to make the day come together.   Leslie is great to photograph–she has this fairy-like quality about her that was really enhanced by the rustic garden theme of the wedding, as well as the perfect makeup by Janelle Brown of Sanctuary in Saratoga Springs.
If you read my blog at all, you know that I love to have my clients tell their own stories.  I love hearing peoples' stories–and it is so much more interesting that just throwing a gallery up of images with a few sentences (obligatory exclamation points!!! after every sentence) gushing over how much I loved everything at the wedding.  It kind of goes without saying that I love the wedding–I would not shoot them if I did not, and I certainly would not put something on my blog that I did not love.  I just think there is so much back story that goes into a wedding that makes interesting copy.  So if you agree with me, read on and find out more about Leslie and Jamie.  Their story is kind of intimate and quite sweet.
How did you first meet?
"It's funny (not really) that I don't recall the first time we actually met.  Jamie says I have a terrible memory–which is true.  However, I recall meeting him at a party prior to when/where he says we met.  Some bad decisions, some heartache and a few mutual friend house parties later, we decided to make it official.  This day is memorable because it was the day that Jamie's Pepere had passed.  A small group of friends, his sister and my sister included, were hanging out when he got the phone call.  Basically, ever since then we have been supporting each other through our ups and downs.  We grew into ourselves, at each other's sides."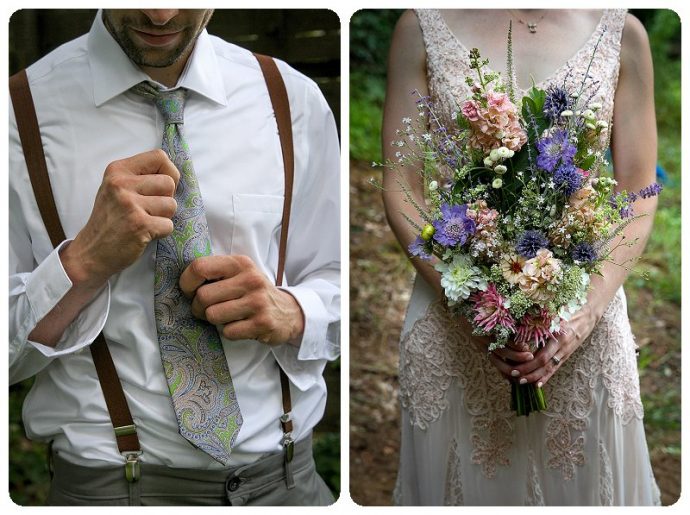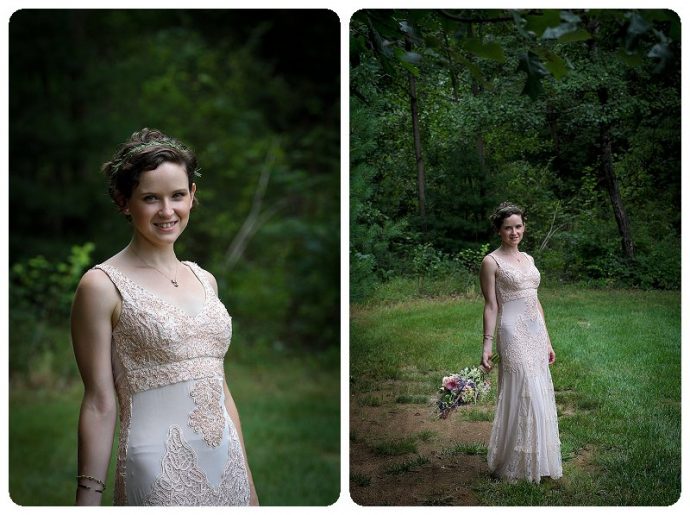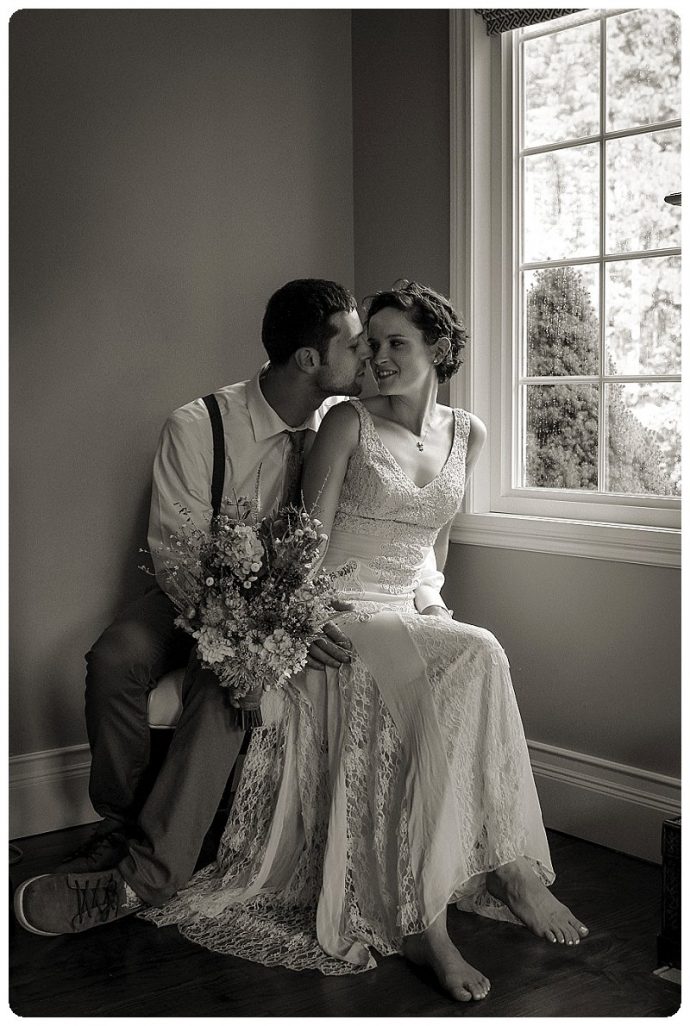 How did he propose?
"Jamie was never one for marriage.  So in July of 2015 when he proposed, other than his nerves giving it away, I was not expecting it.  For a while, he tried planning a weekend away, but I was caught up in work.  He was very persistent on taking time off to go camping before we both continued on into our busy summer.  So we picked a day, a mountain, packed up our three dogs, food, supplies, tent and blow up mattress (high maintenance, I know) and ventured North.  Storm warnings came in and we rerouted East.  Already behind schedule we made it to Treadway Mountain in Ticonderoga and ventured up.  While the climb is fairly moderate, towards the top it becomes a very rocky incline.  Once you get closer to the summit, the markers turn to small rock cairns, some only three or four rocks in a pile, which we had a very hard time following.  Needless to say, we were lost.  This is already after Jamie's legs started cramping, our dog with the bad knee couldn't walk–place me lost on a mountain, and I am ready to go home.  After changing directions a handful of times, I sat with the dogs while Jamie chased down what sounded like people talking.  We weren't far off the path, and soon made it to the summit.  The view was amazing–big sections of rock with much of it made up of rose quartz, great views of Pharoah Lake, Vermont, and the High Peaks of the Adirondacks to the North.  It was dark by the time we set up the tent and Jamie started preparing dinner.  I ventured into the woods, and on my way back in I saw him fiddling with the camera.  He awkwardly told me to sit beside him.  He busted out a beautiful ring four sizes to big and said he wanted to be with me forever.  Knowing he never originally wanted to get married and actually convincing me that we never would be married, I responded with, "Really?  So what do you mean?"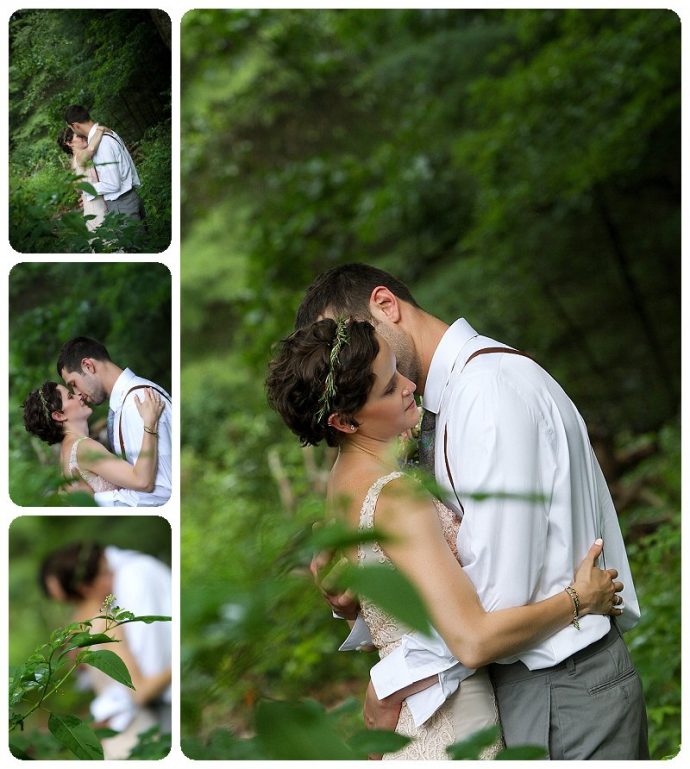 "We ate, snuggled by the fire with our three dogs, and Jamie explained to me the night he changed his mind about marriage after an intense floating experience in his sensory deprivation tank.  He also shared how he almost proposed at the  New York City Ballet Gala while we were there with my yoga friends, watching fireworks a few weeks prior."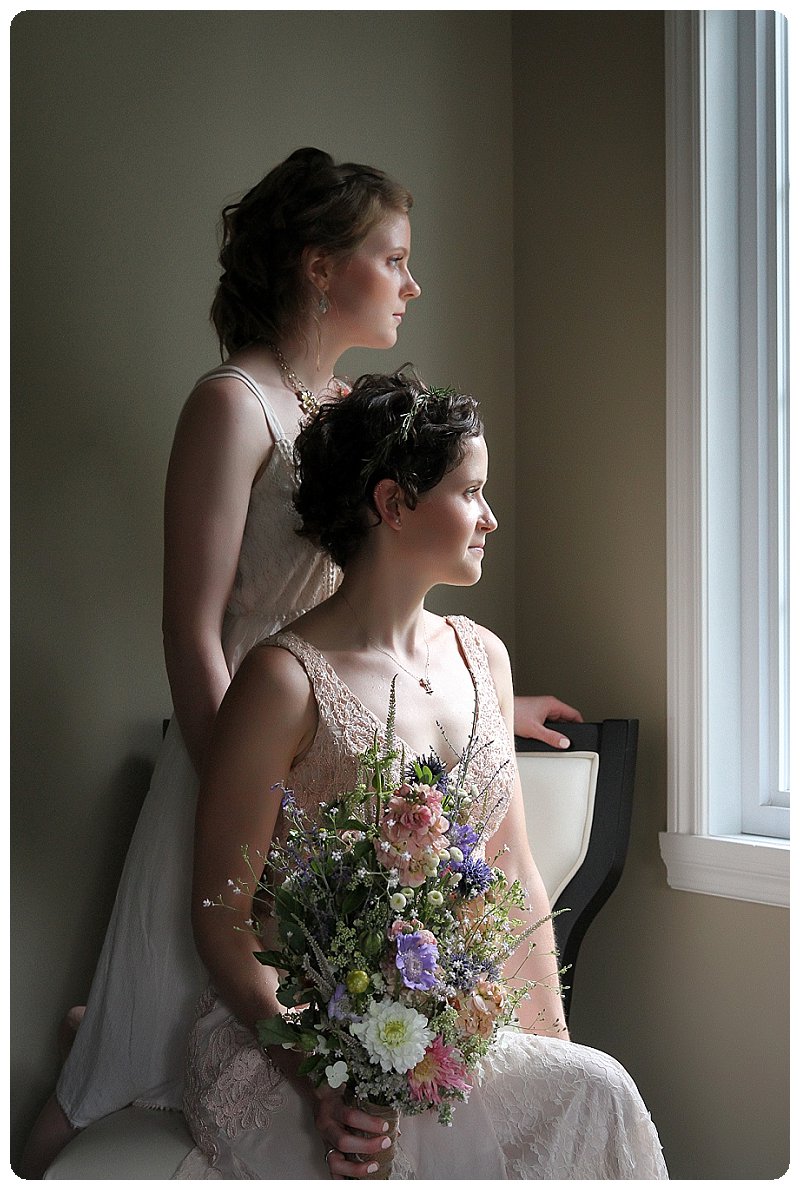 "How was it planning a Backyard Wedding?"
"Thankfully, we had so much support from Jamie's parents–offering to have the wedding and reception at their home.  I am so blessed to be welcomed into such a loving and fun family!  Jamie's aunts and uncles were there days before to set up and helped take everything down and clean up before Jamie and I even woke up!  My parents and my aunts were more than excited and willing to help out as much as possible, planning a bridal shower, as well as coming to set up the day before the wedding, making flower arrangements in the pouring rain.  My brother-in-law's mother made the desserts, and his cousin's wife let me borrow her stunning dress!  Some of our dear friends offered gifts to us in forms of kegs, photography, facials, playing ceremony and cocktail hour music, making myself and the bridal party gorgeous with hair and makeup, which made the day so much more magical!  The best and most touching part was Jamie's cousin being our officiant–English being his second language and his first wedding ever officiating.  It was beyond perfect, and so many said it was the most beautiful ceremony they ever witnessed!"
What were some of your favorite moments?
"How the weather played perfectly to our advantage–it was pouring when the ceremony was supposed to start.  Jamie's uncle was running to borrow umbrellas, and the wedding party was changing how we were all walking down the aisle to make it to the tent dry.  Once we all had our borrowed umbrellas in hand, the sun began to peek out of the clouds and it stopped raining.  At that moment we all ditched our umbrellas and went for the original plan.  As soon as I made it under the tent, it began to instantly pour!  During the ceremony, it was still sprinkling, but the sun was still shining.
"Second favorite moment–is seeing my two grandmothers dancing with all my aunts and cousins.  I don't think I have ever seen my family have so much fun!"
Any advice for other couples planning a wedding?
"Let people help you.  Even if you don't agree on everything.  The day goes by so fast, let the little details go.  And make sure your DJ and the food is the bomb!"
Congratulations to Jamie and Leslie!  Best wishes for a long and happy life together!
Did you enjoy Jamie and Leslie's Backyard Wedding?  You might also enjoy this Wedding Planning Post on planning a tent wedding.  Are you getting married in the Saratoga or Adirondack Region?  Be sure to fill in the Contact Form or call 518.584.4237 to schedule an appointment.