Before You Were Born I Loved You
There is a quote by Maureen Mansfield, "Before you were conceived, I wanted you; Before you were born, I loved you; Before you were here an hour, I would die for you; This is the miracle of love."  I think this kind of sums up why I love to do Maternity and Newborn Photography.  When I photograph pregnant mamas and newborn babies, I can totally see and feel this bond between them.  It is very rewarding for me because I remember feeling (and still do feel) that for my three children.  Below are some photographs I made for Kristen and Brad for their Maternity and Newborn Sessions.  I love the bond between them and their baby Bryce.  Plus, they were just amazing to photograph:)
Timeless Black and White Maternity Photos:
I love the look and feel of classic black and white for Maternity Portraits.  I think this is because when I began photography, I learned with black and white film first.
Contemporary Posing and Styling for Pregnancy Photos:
I also like doing something Contemporary with an almost Vanity Fair look for my clients.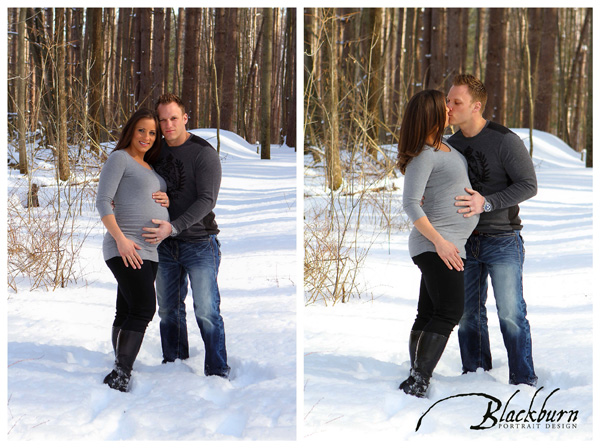 Welcome to the World, Bryce:
We started with some black and white to complement the Maternity Photo Session.
I just love documenting the first days home of a family with a Newborn.  The time goes by so quickly, so it is important to capture this special time.
Thank you to Brad and Kristen for sharing your precious little one with me.  He is adorable and I loved getting to spend time with him.
Thank you also to the ever Fabulous Alayne Curtiss of Make Me Fabulous for the styling for the Maternity Session.
If you enjoyed these Maternity and Newborn Photos by Saratoga Springs Photographer Susan Blackburn, you might also enjoy this Newborn Baby Blog Post.  You can also view more Newborn and Maternity Photography in our Newborn and Maternity Portfolio.
If you wish to schedule an appointment for Maternity or Newborn Photos, please call (518) 584-4237 or use our Contact Form.  We would love to help you document this amazing time in your life.