Bridal Boudoir Photography
Caution:  Curves Ahead.  There  is a hot new trend in Wedding Photography.  It is the Bridal Boudoir Photography Session.  We are really excited that some of our brides are opting to add a Bridal Boudoir Photography Session to their Wedding Photography package.   It is fun for our clients, and it also creates a really unique gift for the groom-to-be.
What is a Bridal Boudoir Photo Session?
So glad you asked.  I like to think of it as a racy little photo session where the subject is wearing a little something–or nothing at all.  But I also like it to be sexy in an innocent kind of way.  I think it needs to be done in a tasteful way–think classic pin-up or more of an "implicit' as opposed to "explicit" nudity.  The best way to describe what that means is that while you are not wearing a lot, you are not showing everything you own–if you catch the drift.
Why do a Bridal Boudoir Photo shoot?
Again, glad you asked.  If you are planning a wedding you are most likely doing a beauty/exercise routine like no other time in your life.  So why not show off all your hard work?  Also, why not take some time off from the stress of wedding planning and do something just for you?  Get your hair, makeup and nails done and indulge.  Let your inner Victoria's Secret Angel come out to play for a bit.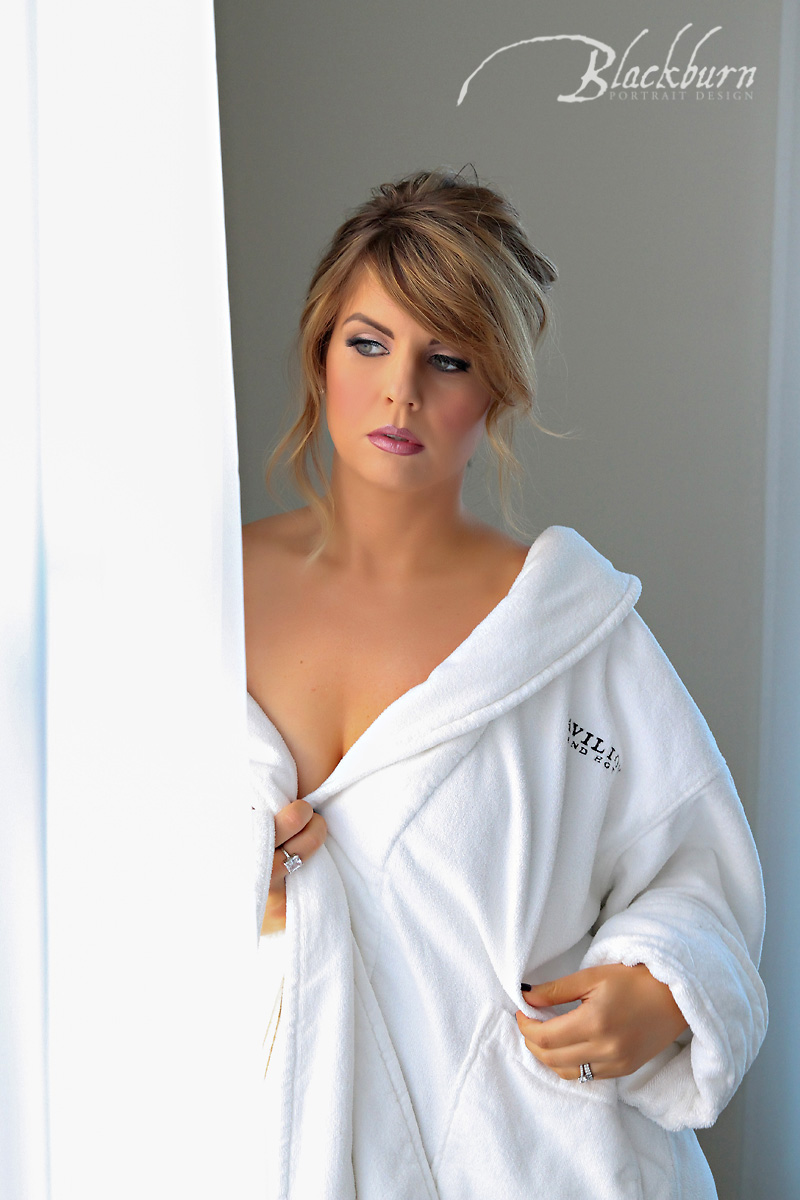 How long will it take?
Well, that depends on you.  Most of the people I know are not super comfortable wearing not much in front of the camera, so it might take a little time to warm up, so to speak.  You might have more than one outfit/look you want to incorporate.  You will also want to factor in time getting your hair and makeup done.  I would say generally to leave two hours for the actual photography session.
Where will we do a Bridal Boudoir Photography session?
My favorite location is a beautiful hotel room.  We can also do your photos here in the photography studio or go on location to your home.  It is really up to you where you would feel the most comfortable.
What should I bring to the photo session?
Really it is all about being comfortable.  One huge misconception is that you absolutely must wear something super skimpy or revealing.  That is simply not the case.
Sure, some girls like to bring several different lingerie/teddy sets.  Some girls bring their boyfriend's sports jersey.  A slinky, silky robe can be nice.  I also like the look above of being wrapped in a bed sheet.  I recommend you at least bring something white and something black so you have a choice of different looks.  A corset can give a nice hourglass shape, but is not really necessary.  High heels are a definite yes because they give a nice shape to the legs.  Beautiful stockings or fishnets can be nice too.  Try to choose items that highlight what you (or he) like most about your body.
You might want to consider a few props.  If you are wearing a garter on your wedding day, definitely bring that–as well as any special undergarments you would be wearing that you think might be appropriate.   Stud earrings and a single strand necklace are great–along with your engagement ring.  Other great props might be a champagne flute filled with champagne, chocolate covered strawberries or even a vintage hand mirror.
What do I do with all the images?
Most of our brides have chosen to do a small album of their favorite images as a Wedding Day gift for the groom.  Another option would be to do a larger wall portrait to hang in your bedroom.  We would be happy to discuss options with you at your viewing/ordering appointment.
Are you ready to book a Bridal Boudoir Photography Session?  Please use the Contact Form or call 518.584.4237 to book your session.  Keep in mind that we do offer gift certificates–in case your bridesmaids would like to gift a session for you.
Are you recently engaged?  Why not do an Engagement Shoot with us?  But first, read all about What to Wear for Your Engagement Shoot.