I recently spent a delightful afternoon at the Yaddo Gardens photographing a very nice  family. Lisa and Jesse recently moved here from the New York Metropolitan Area.  Jesse called me because he knew that Lisa would like to do Family Portraits.   Saratoga is a a lovely place to photograph family portraits–there are so many beautiful spots.  I also enjoyed working with these kids.  They were great listeners, and they were very cute together.
Lisa was kind enough to share some thoughts about her children. 1.  Tell us a little bit about your kids.  We have two girls.  Gabby is 4 and Zoe is 21 months.  Gaby is a little shy in the beginning, but she is really smart, funny, and thoughtful when you get to know her.  Zoe loves games, painting, and being sneaky in any way possible. 2.  What do you love best about your kids?  I love that they get excited about the world–no matter how small, any time we do something new–their excitement is contagious. 3.  Describe your perfect day.  The four of us, swimming and playing near any body of water. 4.  What motivated you to have your family portraits created at this time?  My husband knew I wanted to do this and he got it for me as a present for my birthday. 5.  What do you plan on doing with your family portraits?  The three larger ones will be framed to go in our bedroom as wall art.  The rest will be sprinkled throughout the house.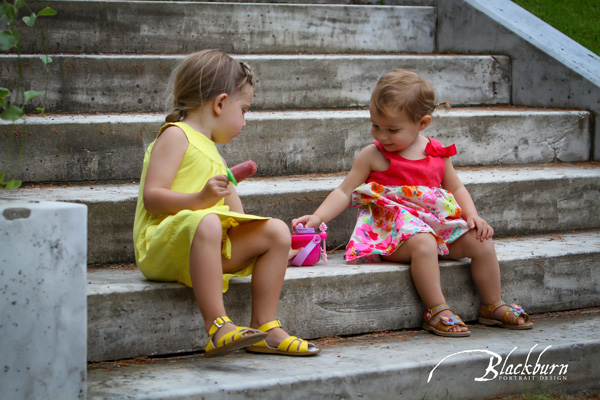 Thank you so much to Lisa and Jesse for sharing their family! Did you enjoy this post on Saratoga Family Portraits?  You might also enjoy reading this post on Family Portraits.   If you are considering having your family portraits created, we would love to hear from you. Susan Blackburn is a Saratoga Family Portraits Photographer.  She photographs clients in Saratoga Springs, Lake George, Lake Placid and beyond.  Call 518.584.4237 to schedule an appointment today.