Why Have Your Photographer Capture Getting Ready Photos?
When meeting with prospective wedding clients, I sometimes get asked, "Do we really need photos of the Getting Ready portion of the day?"
The answer to that really is varied and individual. My personal take on it as a photographer is that it tells a more complete story of the day. I think some of the most emotional shots are from the beginning of the day.  Starting with small detail shots and progressing  through the bride putting on her dress, you can really get the full feeling of the excitement and chaos leading up to the ceremony. To me, a transformation seems to occur when a bride actually puts on her dress. It is almost like that is when she realizes that she is actually getting married–and it is kind of awesome to see. When I am documenting an event, I always want people to remember exactly how they feel at a particular moment in time.
In the images below, I love the details of the shoes and the jewelry.  I also love the intensity on Emily's face as she is looking at her reflection.
And here it is like she just took a deep breath and relaxed.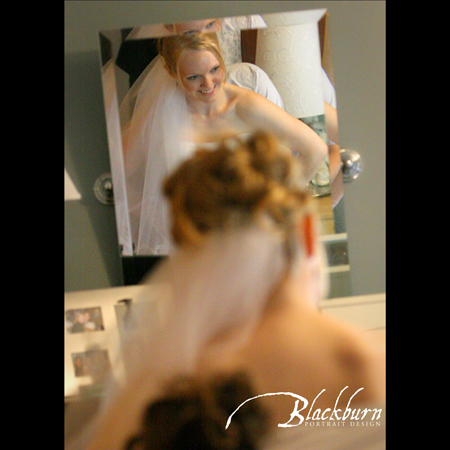 Here is a picture of John reading a card that his soon to be wife sent him.  If we had not been at his location at the Inn at Erlowest prior to the ceremony, this image would never have been captured–and it really does add to their story.  And I kind of really like the guy asleep on the couch in the background.  I heard it was a great party the night before:)
I love this getting ready image of Jen from a wedding shot at Jimbo's Point O'Pines on Brant Lake.  It reminds me of the parachute game we used to play in gym class.
I love this introspective shot of Kim before the ceremony was about to begin.  The Mohawk River Country Club has this great dressing room for their brides that has wonderful natural light.  I don't think Kim even knew I was there, but the light and the pose were so great, I knew I had to take this image.  I love how quiet she seems.
Here is another introspective shot.  This was immediately after Cassandra's sister handed her the bouquet and before we were going to have the First Look.  You can tell how nervous and excited she is–and again, that is a great part of the story to tell.
As I said earlier, it really is an individual decision on whether to have a photographer capture your getting ready moments.  Just know that by doing so, you can add an additional dimension to your wedding day coverage.
If you are interested in meeting with me to discuss your Wedding Photography needs or wish to become a client, call 518.584.4237 or use our Contact Form.