Here is a photography blog idea that I am borrowing from Christian Oth Studio.  I love their photography and try to read their blog when I can.  Their photography is very inspirational to me.  They feature a favorite image from one of their wedding photography commissions or portrait commissions and talk about why they like it.  We all see different things when we look at photographs or paintings.  I really like getting the perspective of the artist or photographer who created the image–it is so much more personal.  So I think I will try that–seems fun and maybe it will help people understand why I take a certain photograph or what is special to me when I am creating an image.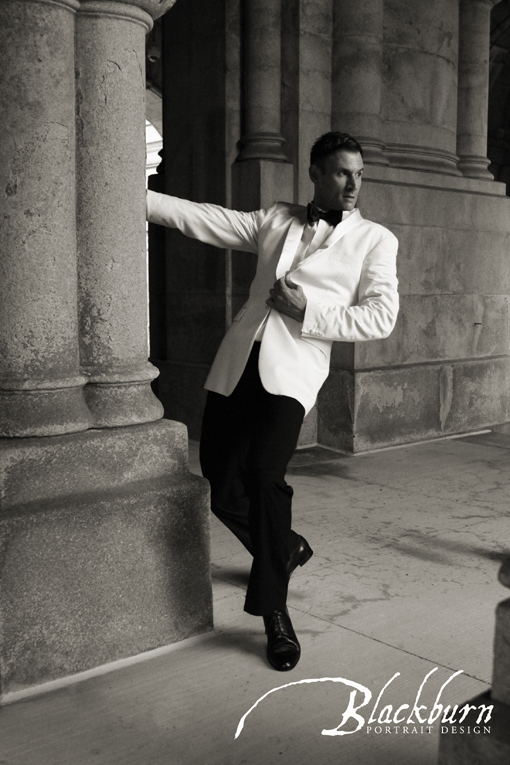 The above photograph is an image I made this summer.  I have been experimenting with off camera strobe and really like the way I can get good portrait lighting anywhere at any time of the day.  This image was made  in downtown Albany late in the day, just before we were inundated with rain.  Not to mention the thunder and lightning.  The area where we photographed was dark and did not really have the best light.  The natural light was directional, but it was the wrong direction and was really not enough.  As a wedding and portrait photographer, I want to make sure I have good light on my subject's face.  By using off camera lighting, I was able to get great lighting on Chad's face.  I love the triangle of light on his right cheekbone.  Chad is a professional dancer and choreographer so I just pretty much let him pose himself–I could never in a million years come up with that pose on my own.  I converted this photograph to black and white because I felt it contributed to the mood of the image.  It reminds me of James Bond/Old Hollywood.
Hope you have enjoyed this post on what I do and why I do it.  Interested in becoming a client?  Call 518.584.4237 to schedule a consultation.