Hannah and Doug's Rustic Rainy Day Wedding
Every Bride dreams of fabulous, sunny weather on their Wedding Day.  But….What can I say?  A little rain can't stop us!  Hannah and Doug recently got married on a bit of a rainy day this past Summer at the Mansion in Rock City Falls.  Because the Mansion is so lovely and because I have a lot of experience photographing Weddings, inclement weather is not a big deal.  We can combine creative locations with many different lighting techniques to create such fabulous images that miss the sun at all.  Below is a slideshow from Hannah and Doug's Wedding Day:
A Beautiful Wedding Venue = Beautiful Wedding Photos
In Wedding Photography, giving the Bride and Groom variety in their Wedding Photos is important.  One of the many great things about the Mansion is that even if it is a rainy Wedding day, there are still plenty of opportunities to get wonderful Wedding Photos.  Between the Barn and the actual Mansion, the opportunities for stunning photos are endless.  Being able to use both ambient light and off camera flash has really been great when confronted with challenging situations while photographing Weddings.  I have pulled out a few of my favorite images to show how we can work with different locations in a challenging rainy situation.
Rustic Rainy Day Wedding Photos:
We generally start the Wedding with the Bride getting ready.  The Mansion has some great areas with natural light to photograph this portion of the day.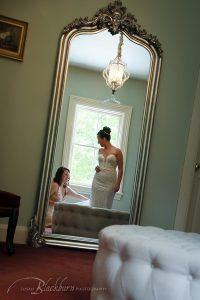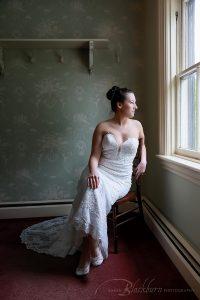 A Word about Off Camera Strobe:
I love being able to use off camera strobe for a different look.  And when you cannot go outdoors, it can really give you some interesting images at a Wedding.  I enjoyed creating a few more Editorial/Fashion style images at this wedding.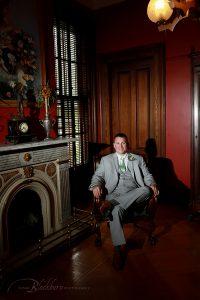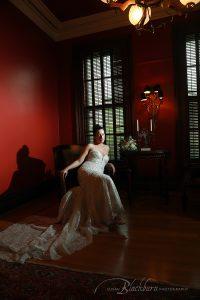 Ambient Light in the Barn: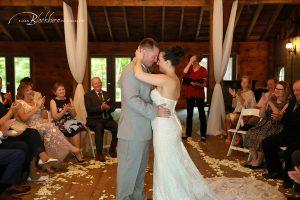 Because of the rain, we were not able to use the gardens and the pond for any outdoor photos.  But it was still important to capture something with an outdoor feeling.  The Barn was a natural choice for this.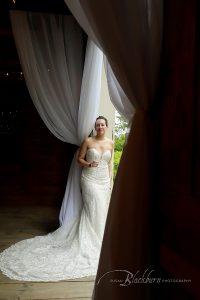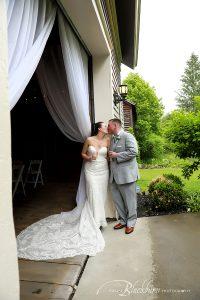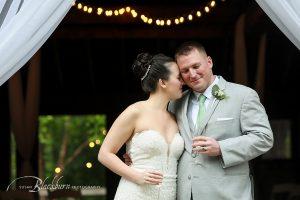 Wedding Photos in the Foyer:
We finished up with some images in the stunning foyer of the Mansion.  I wanted more of a natural feel but still needed a little strobe to  light the couple.  No problem–knowing my exposure settings and modifying the light gave us some great images.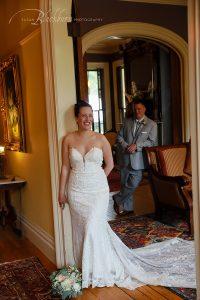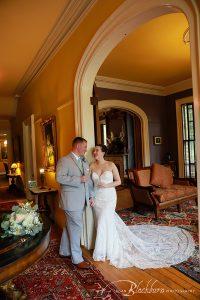 As you can see, a little rain is not a problem.  Sometimes it actually causes you to think outside of the box.  In any case, you cannot control the weather, so you may as well roll with it.
If you enjoyed this post about Hannah and Doug's Rustic Rainy Day Wedding Photos, you might also enjoy Jordan and Gage's Wedding at the Park Theater.
Be sure to check out our FAQs for Hiring a Wedding Photographer for helpful hints.
To schedule a Consultation, please call the Studio directly at (518)  584-4237 or use our Contact Form.
Wedding Vendors for Hannah and Doug's Rustic Rainy Day Wedding:
Venue:  The Mansion Inn
Wedding Photography:  Blackburn Portrait Design
Florals:  The Posie Peddler
Entertainment:  Saratoga Sound
Officiant:  Chaplain Claudia Meyers
Susan Blackburn is a Wedding Photographer located in the Saratoga NY area and loves photographing wonderful people in love.