Wedding Album Design
Some wedding photographers (me) love designing albums.
In fact, when I am photographing a wedding, I am kind of shooting with the story of the album in mind.
I recently did a post of Must Have Photos for Your Wedding Album.  In that post, I outlined what types of photos you should choose when thinking about your wedding album.  Your wedding album is not only one of the first heirlooms you create for your family.  It is a story of how the day unfolded.  My ultimate goal is if someone who has never met you happened to pick up your wedding album, they would immediately feel like they knew you and had actually attended the event.  I personally don't feel it should be a compendium filled with the formal family photos.
What To Think Of With Wedding Album Design:
With that in mind, here is a sample wedding album design I created with images from Shannon and Zach's wedding last fall at the National Museum of Dance in Saratoga Springs, NY.  They were a sophisticated couple who created a very personal event at a lovely, quintessential wedding venue.  There was no huge bridal party.  Zach is a chef and catered the event himself.  The wedding ceremony was highly individual.  Shannon did all the floral design for the event herself.  The details were exquisite, from the Badgeley Mischka shoes, the amazing dress, to the food itself.  They also had a fabulous time with their family and friends at the reception.  With that in mind, I wanted to create an album that showcased the details, how much fun was had at the reception, the emotional feeling of the ceremony, and how great they are as a couple together.  I did not include any of the family formals–yikes!  I think it is ok though, because this was really all about the story of the day.  I tell all my couples that at the most, one page of family formals is plenty.  You can always make small family portrait prints to display in frames around your home.  Of course, this is simply my personal preference.  If my clients feel otherwise, I do defer to their wishes.  Because it is their album, not mine.
Finishing Touches for Wedding Album Design:
Below are some photos of the finished album.  There is nothing like a professionally designed and produced wedding album. I chose a Rose Gold Leatherette for the cover because lots of the details at the wedding were Rose Gold.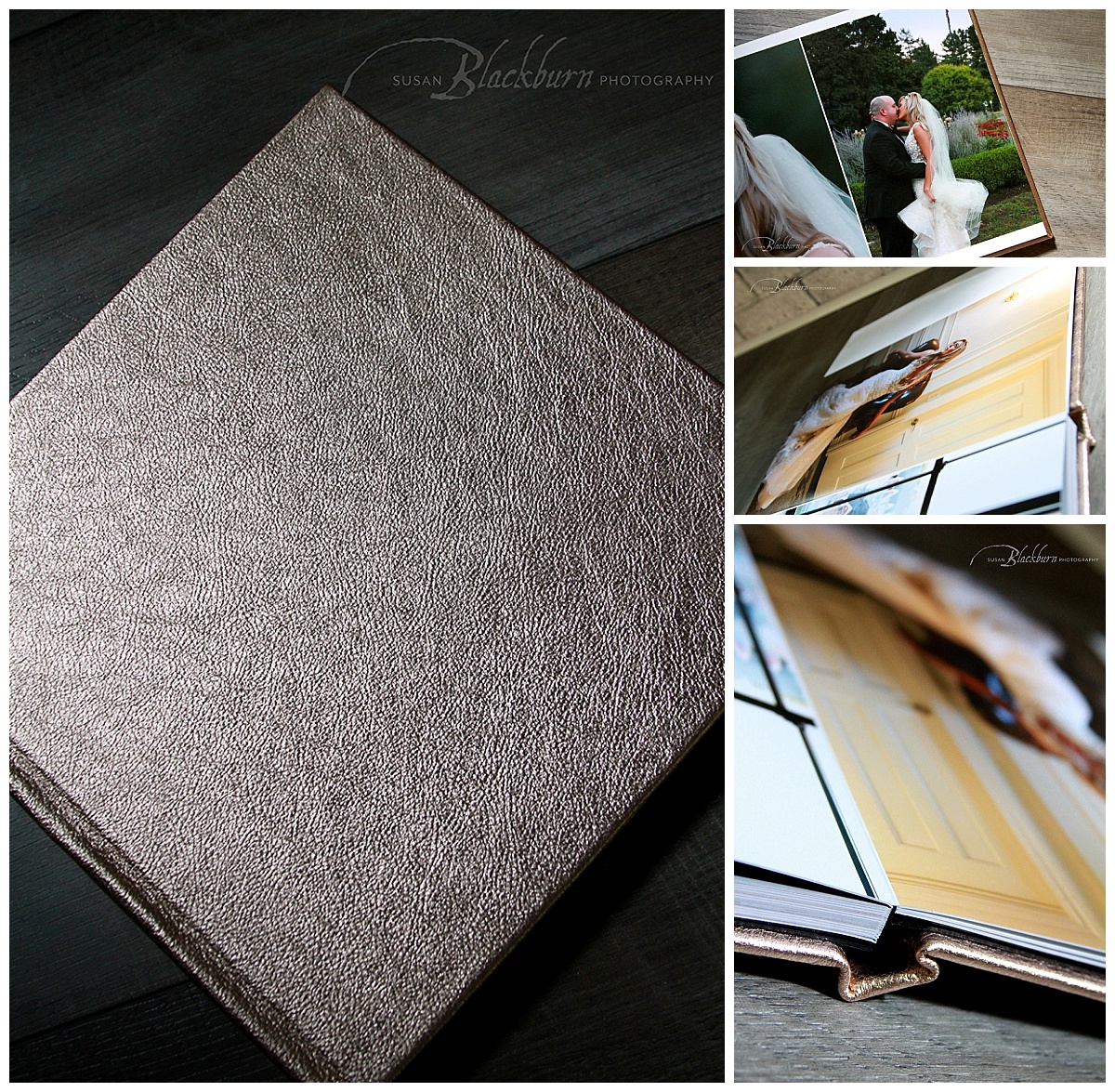 There you have it–my take on wedding album design.  You can read more about wedding albums and books here.
Are you getting married in the 518 area?  We would love to have the opportunity to chat!  Give us a call at (518) 584-4237 or use our Contact Form.