Long Island Vineyard Portrait Session
Ella is a little girl I have had the joy of photographing since she has been born.  She is five now and heading to kindergarten. I sometimes think that five is really the perfect age to do formal portraits of little kids.  They are cute and they are good listeners at that point, so it is not so much of a crap shoot.   Children this age usually do not need a nap at the optimum time for good outdoor light and it is easy to bribe them when things get a little rough.  They can be exuberant without being totally wild, if that makes any sense.  I got to do a series of portraits of her several weeks ago on Long Island at a vineyard on the North Shore.  There were a lot of really nice backdrops with good available light combined with not a lot of people around watching us during the session, which can sometimes make kids nervous.  While there were many pictures that I liked, the one below is the one I absolutely love.  I think this photo captures her at a really peaceful moment.  And I especially love her curly hair and her luxurious eyelashes.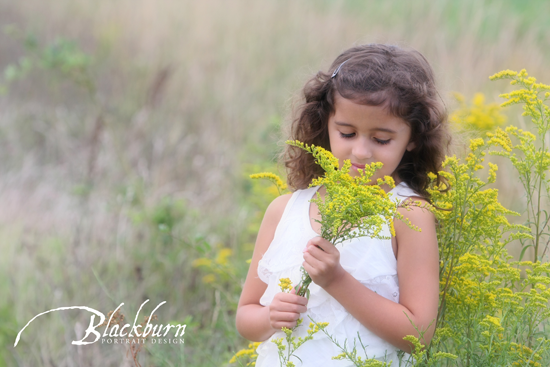 The lighting that day was perfect and I really love the contrast of the yellow with the background.  Be sure to check out some of the other children's portraits in the Children's Portrait Photography Gallery.  You can also view Ella's session from last year at Smith's Point Park on the beach by clicking here.
Are you looking for a Saratoga Springs Family Portrait Photographer to help you create your family portraits this year?  Please visit our page of Frequently Asked Questions to see if we would be a good fit for you and your family.  We would love to help you tell the story of your family.  Call 518.584.4237 to schedule a session today.