Adirondack Winter Weddings:  Tips and Style Ideas | Adirondack Wedding Photographer
Adirondack Winter Weddings are becoming more popular lately.  Winter Weddings in the Adirondack Region of New York are very romantic and naturally lend themselves to great Wedding Photos.  But planning for a Winter Wedding in the Adirondacks adds a few challenges that normal weddings do not present.  Whether you are planning a large event or are simply eloping, below are some hints and style ideas for planning an Adirondack Winter Wedding.
1.  Plan for an earlier sunset.  In the Winter with Daylight Savings Time, the sun will set pretty early.  The best light for portraits is often during the "Golden Hour," or the hour before the sun actually sets.  In the Winter, the sun is generally lower in the sky as it is, so make sure you schedule your photo time appropriately.  We suggest you plan for your ceremony to take place before 2 PM.  That way, you can do some images indoors with family and friends, then move outdoors for some great photos.
2.  Plan for unpredictable weather.  Bad weather can complicate your travel plans, so make sure you leave extra time in case there is snow or icy road conditions.  Even better, consider having your ceremony at the same venue as the reception so you do not need to travel more than is absolutely necessary.
3.  Plan for unpredictable weather in terms of your attire as well.  It can get really cold in the Adirondack Region.  We recommend that if you are planning for outdoor photos that the bride invest in a pair of warm, waterproof boots–they can still be super cute.  A fur stole (real or faux) is also a great investment.  Gloves or mittens and a beautiful pashmina are also wonderful items to have on hand.  We have even had brides with big poofy dresses wear thermal underwear or sweats underneath their dresses.  It is a great idea to have a nice umbrella or two on hand in case snow turns to sleet or freezing rain.  A cute idea would be to have a thermos of hot chocolate or eggnog for a few photos.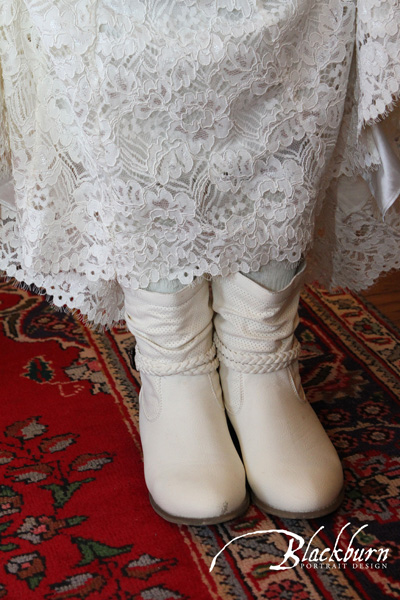 4.  Wedding location ideas:  The intimate warmth of a rustic lodge or an historic Bed and Breakfast with a roaring fire in a beautiful fireplace can add great ambiance to your Wedding Photos.  While outdoor Winter Wedding Photos are really beautiful, make sure you choose a location that has some areas indoors for photos in case the weather does not cooperate.  Many hotels have extravagant decorations during the Holiday season that look fabulous in pictures–at no extra cost to you.  A sleigh ride can be very romantic and provide great photos.
5.  Don't forget to incorporate the Adirondacks in your décor–pine cones, birch trees, snowflakes and crystals can help bring the outdoors inside.  Gigantic white mums can look almost like snowflakes.
If you enjoyed this article, you might also like Tips and Tricks for Great Getting Ready Shots on our blog.  Interested in becoming a client, please fill in our Contact Form.
Susan Blackburn photographs Weddings and Elopements in Saratoga Springs, Lake George and the Adirondack Regions of Upstate NY.  Call (518) 584-4237 to schedule an appointment today.