Saratoga NY Engagement Session In The Snow
An Engagement Session in the Snow is so fun. There is something really magical about a fresh snowfall, and as a photographer, I love the way the snow bounces light around making for great photos.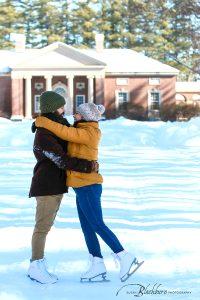 Recently I got to photograph Krystle and Alex's Engagement Session in the snow at the State Park in Saratoga.  After postponing twice due to weather concerns, we finally had a clear day–yay! We were originally supposed to meet up the day before, but we had a huge storm. I think it actually worked out better this day.
It was cold–SUPER cold.  But I love the way everything turned out.
Always Plan Ahead
For any of my portrait sessions, I like to discuss clothing and location options ahead of time.  It is especially important with a Winter Session because if the clients are cold, it can be a miserable experience.  From personal experience, I know that Frostbite is no fun.   Because of this, we decided that jackets, boots and hats were a must.  I loved the colors they chose because they really melded well with all the snowy backdrops we were working with.  I also feel like the choice of coats was excellent because while they were warm, they were not overly bulky items and do look fashionable.
We had discussed ahead of time that one of the things they enjoy doing together is ice skating, so we started with that–so fun!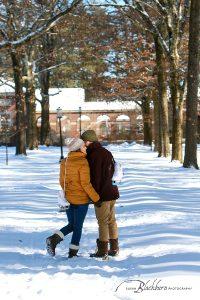 Variety is important for any Engagement Session
We then drove over to another area of the park to use several different backgrounds for variety.  Luckily there was a spot to go indoors at one point to warm up, it was that cold.  I was joking with them that this session looks like an ad for the local Chamber of Commerce for why you should come stay over in Saratoga during the Winter.  I had also brought a white furry blanket with me to layer over their clothes so we threw that in for a few photos.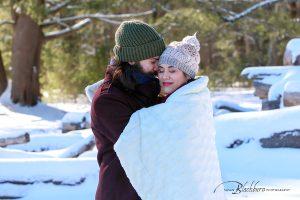 If you would like to see more, you can view the entire Engagement Session in the Snow here:
Are you ready to schedule an Engagement Session?  Give us a call at (518) 584-4237 or use our Contact Form today.  Be sure to also read our post on FAQS for Hiring a Wedding Photographer if you are trying to narrow down your search.