Problem Solving Wedding Photography
As a Wedding Photographer for many years, one thing I am grateful for is all the teachers and mentors I have had over time.  Without them, I doubt I would be able to create anything really good or interesting.  They have definitely made Wedding Photography Problem Solving easier.
The Dilemma
I was just talking to someone this past week about how my Wedding Photography has evolved over the years.  When I first started out, I was working for a studio that did not, shall we say, value educating it's employees.  This was a source of frustration to me.  One weekend, the couple would be very comfortable in front of the camera and the photos would be amazing.  The following week, not so much.  The couple would be awkward, stiff or the posing was really a chore.  Plus my entire lighting technique consisted of flash on camera.  I finally got fed up and took my first class with Tony Corbell, an industry great.  I believe it was called Take Control of Your Outdoor Lighting.  Anyway, it was mind blowing and I was hooked on in person classes.
Taking Control of Wedding Photography Problem Solving
Fast forward to now–I can honestly say that taking classes has made such a major difference in my professional life.  I know when I walk into a Wedding that I will be able to handle almost every situation and get good results.
Below is an example of the type of situation a Wedding Photographer can find themselves in and Wedding Photography Problem Solving.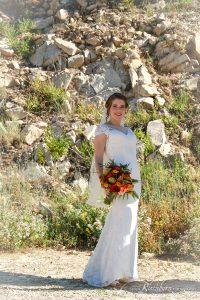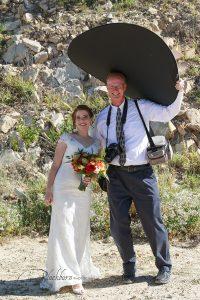 Danielle and Chris had a gorgeous Destination Wedding in Park City, Utah.  If you have never been there, it is pretty much a desert.  I don't say this in a bad way.  It looked so interesting and beautiful.  But it was a way different challenge from working in Upstate NY.
The couple decided to do a First Look, but the sun was almost directly overhead.  Direct sun can be challenging with harsh shadows, people squinting, etc.  Often it is not super flattering.  There were a few choices I could have made.  Backlight, meter for the face, and lose all detail in the landscape.  This was a no because the landscape/venue was important to the couple.  Blowing it out was not really an option.  Backlight metering for the rocks and adding strobe–I felt this might be a bit too "flashy."  Plus, it would have been a major pain setting up lights.  It was a bit windy at that time.  Finally, thanks to said course Take Control of Your Outdoor Lighting, I used a pretty simple solution.  I had my handsome Assistant hold a black scrim over Danielle so we would get beautiful even light on her face and still get the location properly exposed.  Voila!
The only thing I would change if I could go back in time would be to lose the harsh white highlight on her dress.  That highlight really is distracting.  But overall, I like it a lot.  It also did not take a ton of time to set up and execute.   That is the thing.  On a Wedding Day, Photographers do not have the luxury of unlimited time to get the shot.  You have to make a quick decision, get it done, and then move on.  I know that taking classes has been instrumental in my being able to do that.
Later in the day as the sun was getting lower, we went to a different spot and captured a series of Wedding Photos of Danielle and Chris.  Here because we had a darker background and the light was not directly overhead, we were able to backlight the couple.  I LOVE how this came out!  I love how the light is rimming them and the detail on the dress.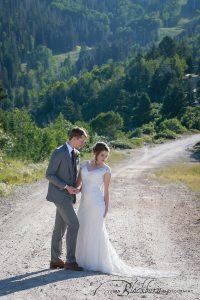 So I guess my entire point about Wedding Photography Problem solving is that in order to problem solve, you need to understand all your options.  After that, you need to understand how to properly implement the solution you choose.
Read more about Danielle and Chris' Utah Destination Wedding.
Use our Contact Form to get in touch!