As Adirondack Wedding Photographers, we LOVE Winter Weddings.
That being said, planning a Winter Wedding does present some unique challenges to couples planning an event.  Snow is the least of your worries.  Avoid disaster by taking a few of our Winter Wedding Planning Tips into consideration.
Communication Is Key For Winter Wedding Planning Success:
It is really, really important to make sure all of your Winter Wedding guests know what to expect, especially if they do not live in the area.  You can include an insert to your invitation that details helpful hints on attire for outdoors, if/how long you expect people to be outdoors, typical weather conditions in the area on your date, and if you have inclement weather plans.  It is especially important for guests to know what to pack ahead of time.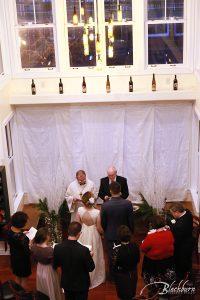 Planning a Winter Wedding Ceremony:
While a Winter Wedding Ceremony can be lovely outdoors, please do consider the comfort of your guests.  Little things like providing blankets, heaters or hot drinks will be greatly appreciated.  When Wedding Guests are comfortable, they can focus their attention on the happy event instead of how cold they are.  Also, be sure to have a Plan B in case the weather does not cooperate.
Provide Transportation For Your Guests:
If your budget can at all allow for it, a shuttle service from the hotel to the venue would be greatly appreciated, especially if the weather is dicey.  It is hard enough for out of town guests to navigate an unfamiliar area–it is even more so if the weather is snowy and the roads are treacherous.  It will also help guarantee that people are on time for the event.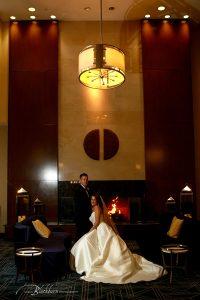 Scout Out Indoor Locations:
Yes, we all love the snowy outdoor Winter Wedding Photos.  However, super low temps can severely limit your ability to be outdoors for more than a short time.  Having some unique indoor locations can not only add variety to you wedding photos, but also provide a respite from the weather.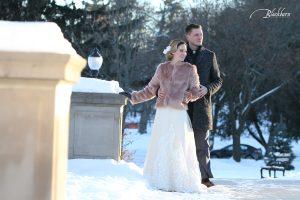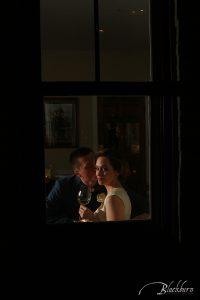 Bring Some Warm Clothing!
Be sure to invest in a pair of warm and waterproof boots to wear under the dress–they will help you extend your time outdoors!  Also consider investing in a fur coat, cape or stole for outdoor pictures.  And don't forget gloves or mittens!  Frostbite can happen quickly in Upstate NY.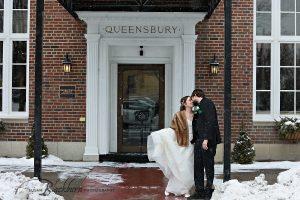 Winter Weddings May Not Be "Off Season"
Don't assume a Winter Wedding in Upstate NY and the Adirondacks will be less expensive or off season!  We have many couples who plan a wedding in the area precisely because they love the idea of a Winter Wedding.  We also have a thriving ski/snowboarding industry, which also impacts pricing and availability.  Carefully evaluate whether or not a Winter Wedding is in your budget.
If you enjoyed this post on Planning a Winter Wedding, you may also enjoy this post on our Top Five Winter Wedding Planning Tips.
Be sure to check out our Wedding Photography Portfolio.
Are you ready to book your Wedding Photographer?  We would love to chat!  Use our Contact Form or call (518) 584-4237 today.