Sometimes it rains on a Wedding Day.
It poured on Rossy and Matt's Wedding Day.  But that did not bother them one bit.  I love when couples don't let little things hamper their enjoyment of the day.  After all, you cannot control the weather.  So you may as well roll with it.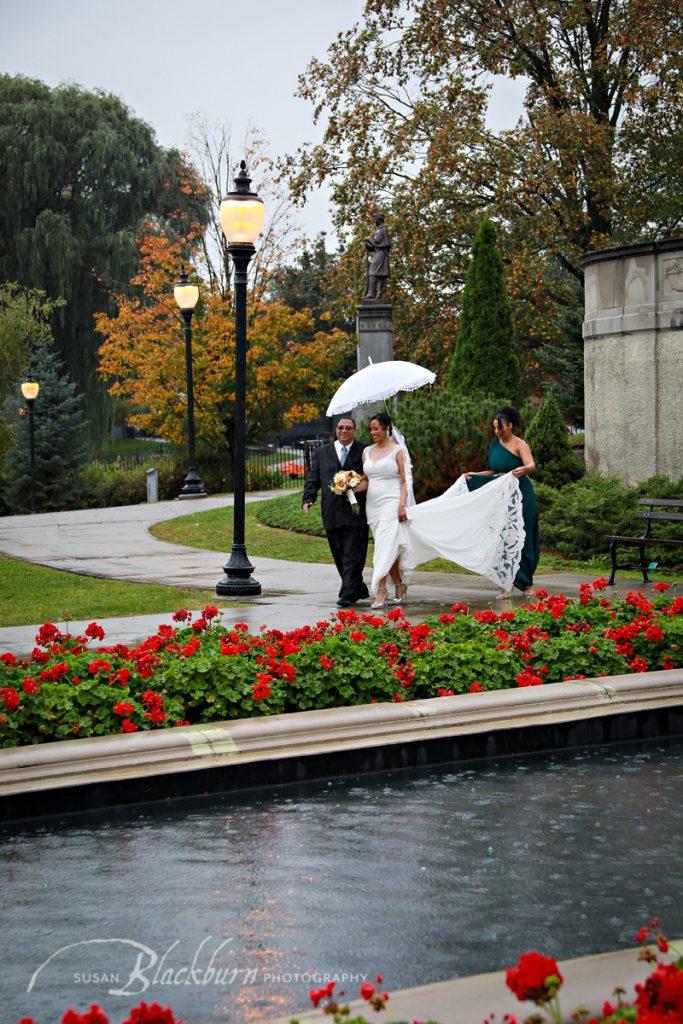 A Rainy Saratoga NY Wedding Ceremony
Our couple chose to get married by The Spirit of Life fountain in Congress Park.  Rossy's Dad organized small tents for coverage.  The Bride walked to the ceremony in the rain with an umbrella.
After a few quick photos in the Park, we went over the the reception venue, The 408.  I really enjoyed this venue as it had a cool industrial vibe, and the food was excellent.
Below is a slideshow of some of my favorite moments from Rossy and Matt's Rainy Saratoga Wedding in Congress Park:
While we were able to capture some very nice portraits outdoors in the rain at the Park, I was really happy I had my little Speedlight to do some cool portraits of the Bride and Groom indoors.  I loved the decor of the venue–it kind of reminded me of a Hollywood Oscar's After Party.  So I was happy to be able to do some Hollywood Glamour/Vanity Fair type images for them.  It always amazes me how different directions and quality of light can dramatically impact the final image.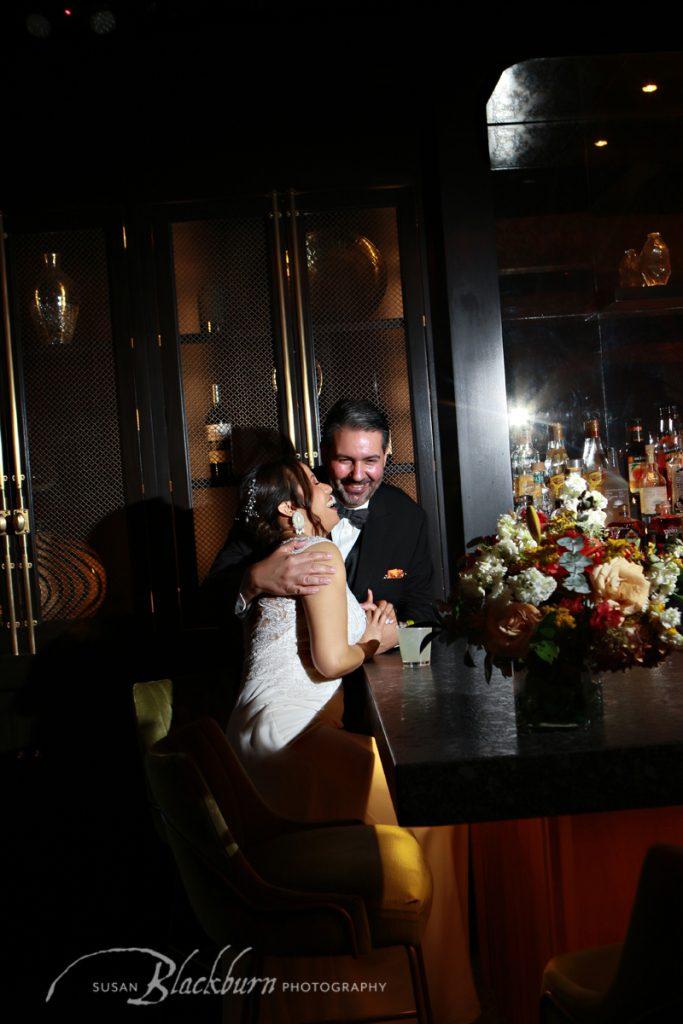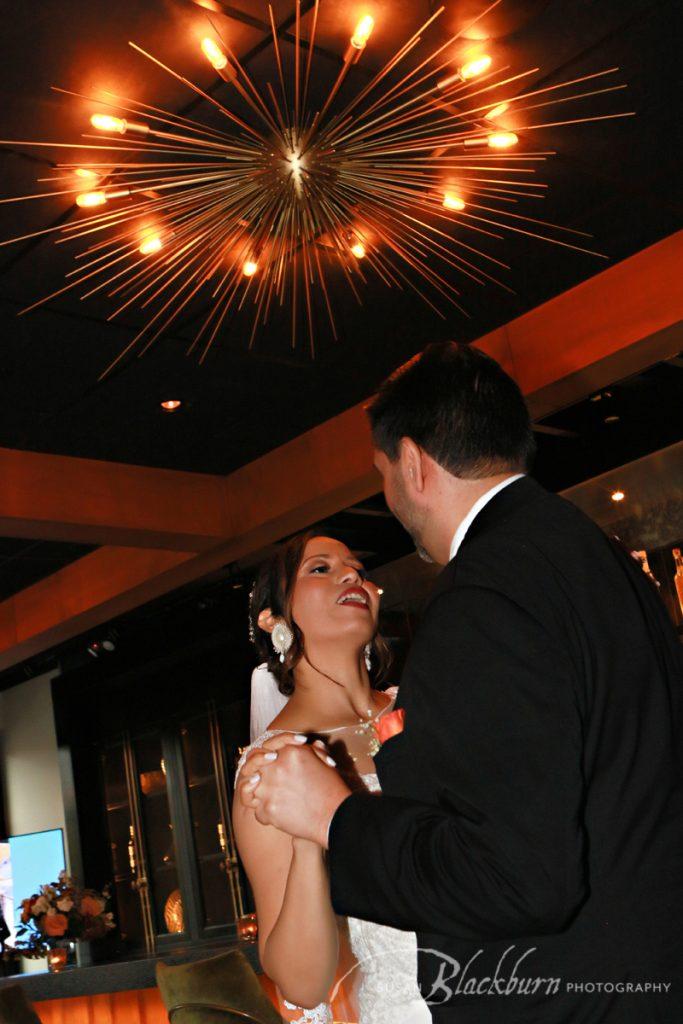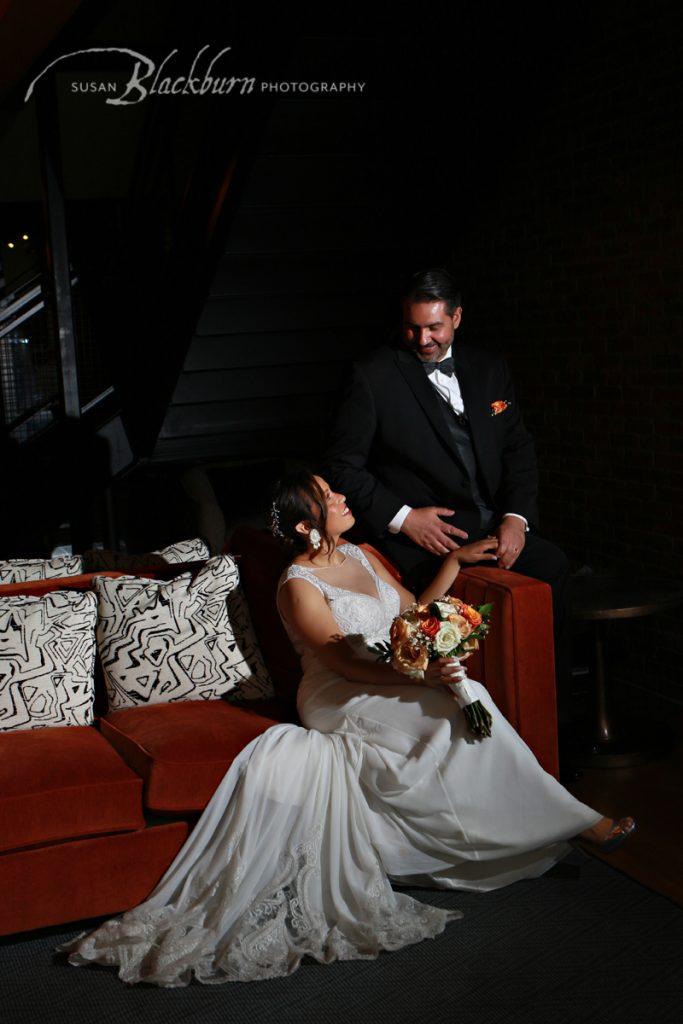 I think that after you see what we were able to capture on Rossy and Matt's rainy wedding day, that a little rain is not so tragic.  And you might actually like these types of images just as much if not more than the standard Park photos.
If you liked this Real Wedding Blog Post, be sure to check out September Wedding Photos at the Mansion with Raul and Kirby.
You might also find our FAQs for Weddings helpful as well.
You can schedule a consultation with us by calling the Studio directly at (518) 584-4237 or by using our Contact Form.