Why Hire a Professional Wedding Photographer?
Planning a Wedding can be daunting–we get it.  In addition to all the myriad decisions a couple needs to make, there is also the cost factor.  Many times couples have absolutely no idea how much it costs to host the wedding of their dreams.  At some point in the planning process, it begins to become apparent that some compromises will need to be made to stay within a reasonable budget.  Some couples think, "Why hire a Professional Wedding Photographer when my (aunt, friend, neighbor) has a great camera?"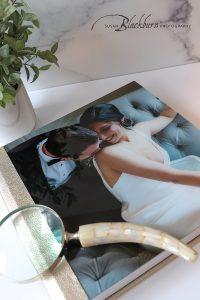 But please, for the love of all that is holy, resist the urge to let your friend, family member or an amateur photograph your wedding day.  I say this not to be mean.  Before you decide the open bar or the chiaravari chairs are more important than a Professional Wedding Photographer, consider a few things.  I say this because I truly believe your wedding photos are the only tangible thing you will have left at the end of the day.  It is what will help you look back over the years to one of the most important days of your life.
Here are some reasons why I think it is best to hire a Professional Wedding Photographer: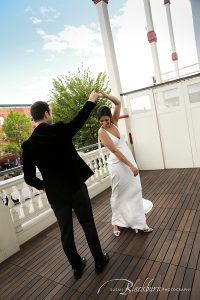 Wedding Day Timeline and Flow of the Day:
A seasoned photographer understands that a wedding day goes by all too quickly and certain images need to be captured efficiently.  As a Professional Wedding Photographer, one of the things I work on with all my clients is a Wedding Day Timeline.  The Timeline is an outline of what is happening when.  Many times before we do this together, couples have no idea how long certain things like Family Portraits or Reception formalities really take.  Laying it out reduces stress for everyone and ensures you capture all the special things you want to remember.  You can read our Post on Wedding Day Timelines to learn more.
Beautiful High Quality Images:
A Professional Wedding Photographer must be able to wear many hats and do many things.  Not only do they need to know their gear, they also need to be able to pose people to look their best, handle poor lighting and location issues, difficult situations/people while working quickly because there is never enough time.  All of these factors are challenging for a pro–an amateur will be in way over their head, trust me.  And the last thing you want is to get your wedding photos and be unhappy with the quality.  We also make sure we have backup equipment, because experience has shown that anything that can go wrong, will go wrong.  Because there is only one chance to get it right.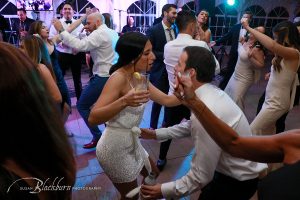 Hire a Professional Wedding Photographer for Less Stress:
An experienced Wedding Photographer does not need you to hold their hand.  They know ahead of time what will likely happen and when.  They know where they need to be to get the shot.  This means you don't have to worry and you can enjoy your day more.
Hire a Professional Wedding Photographer for Peace of Mind:
Professionals work with contracts and make a commitment to show up on time and produce a certain product.  The same cannot be said for a friend or amateur, no matter how well you think you know them.  There is a vast difference between someone hired to do the job right vs. a friend doing you a favor.  In all my years working in this industry, believe me when I tell you I have heard it all.  Having a friend or relative do your wedding photos can lead to broken relationships.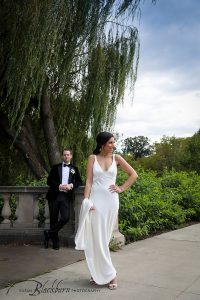 Creativity and Style:
Even if an amateur can capture a clear and well exposed image, it does not mean the photo will be great.  It might be missing an element of style, creativity or flair.  You deserve to have amazing Wedding images, not "Meh" Wedding Images.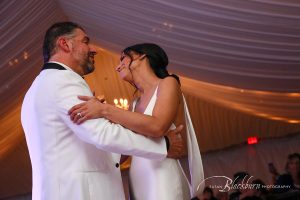 A Professional Wedding Photographer Knows When To Be Unobtrusive:
There will be times when you don't want to actually see your Wedding Photographer on the Wedding Day–in a good way.  There is an art to capturing great images while the subjects don't even know you are there.  This comes from years of anticipating moments and knowing where to be at the right time.  It comes from intimately understanding the camera gear.  There are moments during the ceremony, getting ready, or the reception where you just want people to be themselves and capture the moment organically and  unobtrusively.  Amateurs just don't have the necessary skill set to do this properly.
The bottom line to all of this is that a Professional Wedding Photographer is totally worth the investment.  Be sure to check out FAQs for Hiring a Wedding Photographer on how to choose the right Wedding Photographer for you.  Below is slideshow of Alyssa and Craig's wedding at The Lodge:
Are you looking for a Saratoga Springs NY Wedding Photographer for your event?  Let's chat!  Please call us at (518) 584-4237 or use our Contact Form today.
Blackburn Portrait Design is a full service Professional Wedding Photography Studio located in the beautiful Saratoga NY area.